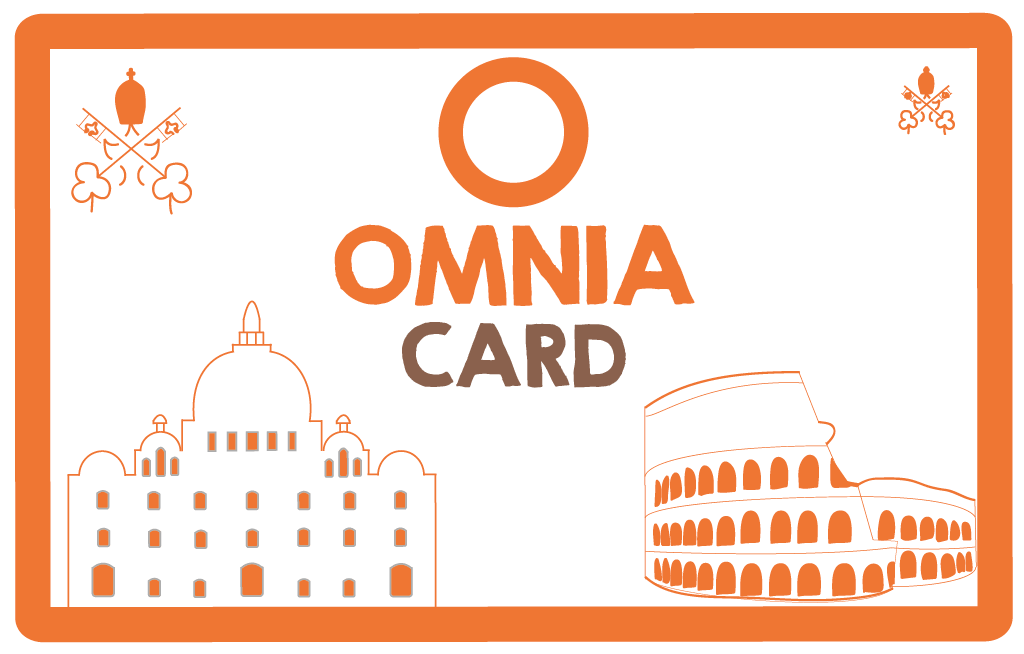 All you need to know about Omnia Card in order to visit Colosseum (Updated)
Is Omnia Card worth it? The Colosseum and the Vatican are the two Rome attractions topping the list of most novice visitors to the Eternal City. It's no wonder then that they are also Rome's most-visited attractions.
Tens of thousands of visitors are going through the gates of the Colosseum and the Vatican Museums each day. This means the time where you could just pitch up, buy a ticket and be done in 1 to 2 hours are long gone.
How can I ensure fast-track entry with Omnia Vatican Card ?
Colosseum and Vatican tickets should best be bought a month or 2 in advance for a specific day and a specific time. The biggest benefit of buying your tickets and scheduling your visit online is that you can skip the ticket line on arrival, saving you a lot of frustration and giving you much more time for sightseeing.
What are Rome travel passes ?
The Rome city passes are good options for first-time visitors who want to get around Rome quickly and efficiently and see the major attractions in 2 or 3 days. The Roma Pass includes the Colosseum, Borghese Gallery ((included again since February 2020) , Castel Sant'Angelo and many more of Rome's museums and archaeological sites.
You may ask what about the Vatican Museums and Sistine Chapel if they're not included in the Roma Pass? Well, the city fathers have come up with a special Rome city pass called the Omnia Card Rome to include them.
The Omnia Card Rome is a 72-hour card which includes a Roma Pass with many added benefits such as free fast-track entry to the Vatican Museums and Sistine Chapel.
But if it's the Colosseum that tops your list of free things to do with the Roma Pass, here's a guide to how you can best use the Omnia Card for Colosseum tickets.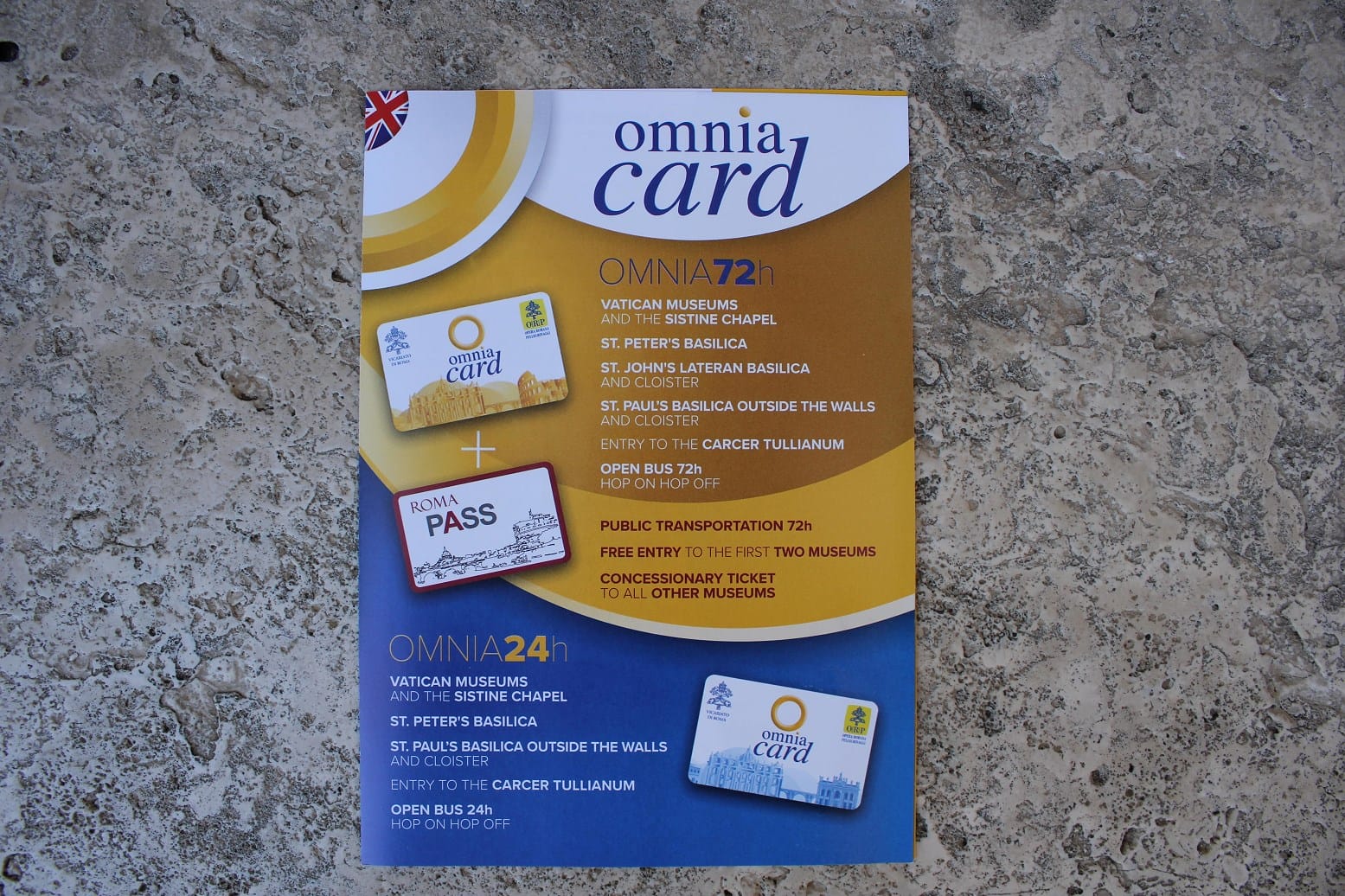 Before I give a final verdict about whether it's worth buying the Omnia Vatican & Rome Card, let's take a look at some of the figures.
Hop-on-hop-off bus tours

€35

Sistine Chapel & Vatican Museums

€30

Rome Travel Card

€18

St Peter's Basilica audio guide tour

€15

Colosseum

€14

Castel Sant'Angelo

Discount

€15

€5

Baths of Caracalla

Discount

€8

€4

TOTAL
€135
MONEY SAVING
€22
BOOKING

Check your pass
That's a monetary saving of €22 on a doable itinerary if you manage to visit both the Vatican Museums and Colosseum first thing in the morning on 2 of your 3 days with the Omnia Card Rome.
Remember, the card also includes substantial discounts on various tours and events. You can find a complete list here.
While the monetary benefit isn't huge, the convenience of an all-in-one ticket with skip-the-line access is worth more than you can imagine if you've ever witnessed the ticket lines at the Vatican and the Colosseum.
Furthermore, the ease of getting around by simply hopping on and off public transport and/or a sightseeing bus helps you get to the attractions in no time. If you're in a hurry to get to the Colosseum 30 minutes before your scheduled time, you can simply take the closest public transport without wasting time on buying a ticket.
The detailed Rome guidebook and map may not be worth a lot of money but is very informative if you want to read up on attractions before your visit.
Our final verdict, therefore, is that the Omnia Card Rome is worth it if you're planning on seeing and doing as much as possible during 72 hours in Rome. You must make your own calculations based on your itinerary.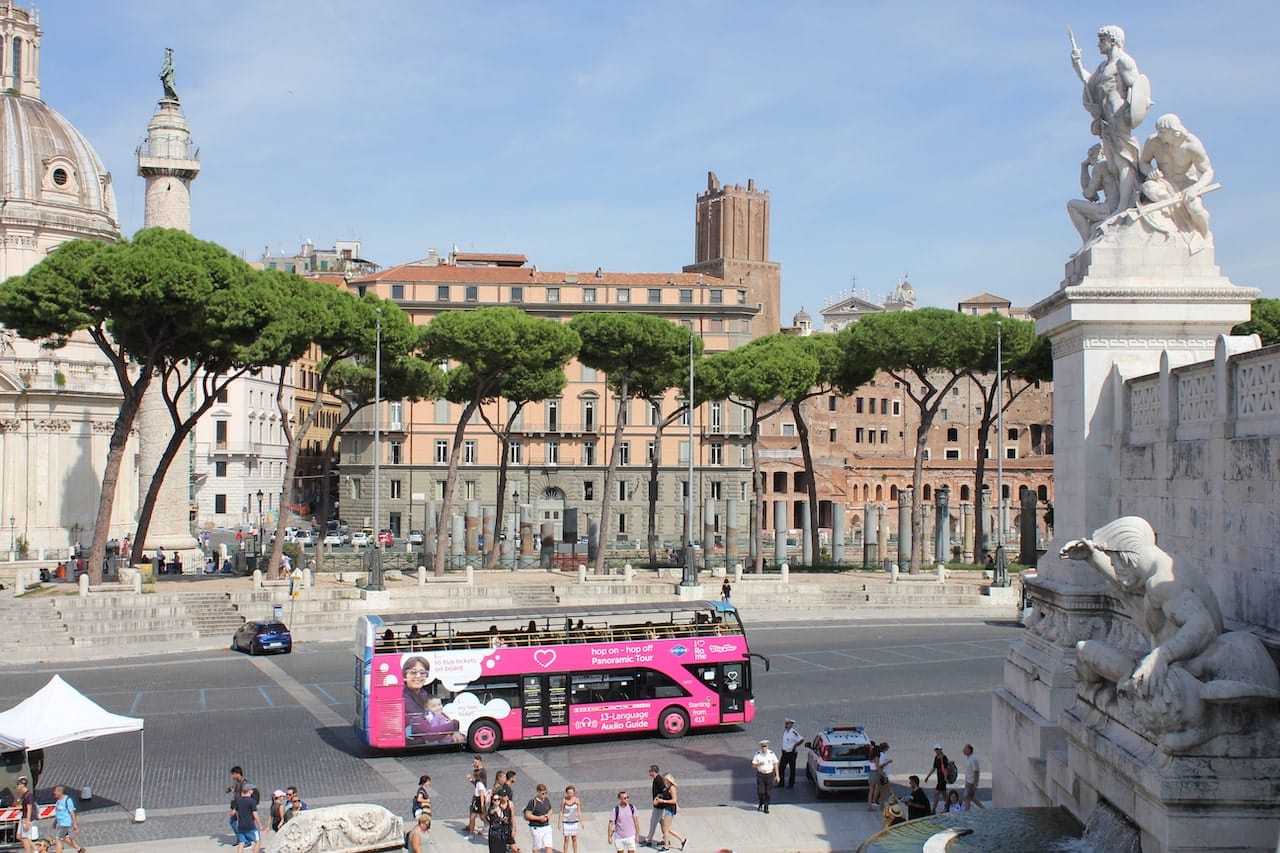 Where to buy the Omnia card?
The most convenient is to buy your Omnia Vatican & Rome Card online here. This way, you can start scheduling your Vatican and Colosseum visits knowing you have already secured the tickets.

If, for some reason, you didn't buy the Omnia Card online, you can also get it at the following three points in Rome. They are called Omnia Redemption Points (O.R.P):
Piazza Pio XII, 9 (St. Peter's Basilica)O
Open: Monday to Sunday 09.00 – 16.00
Piazza di Porta S.Giovanni, 6 (St. John in the Lateran)
Open: Monday to Sunday 09.00 – 16.00
Largo Argentina, Via dei Cestari 21 (Pantheon)
Open: Monday to Sunday 10.00 – 16.00
The 3 redemption points are also where you would collect your Omnia Card if you bought it online. However, take note there is an option to have it shipped to you for an additional fee. The card is valid for 12 months after purchase.
Activation and validity of the Omnia Card Rome
The Omnia Vatican & Rome Card is valid for 72 consecutive hours after activation. It is activated the first time you enter one of the included attractions or use public transport for the first time.
In 3 simple steps, this is how you can start to enjoy all the benefits of the Omnia Card after arriving in Rome:
1. Collect
Go to one of the redemption desks mentioned above and collect your city cards and sightseeing package.
2. Activate
Decide when to activate your pass for the first time to get the most out of it in 72 hours. For example, if you arrive at midday and don't plan on visiting any of the attractions that day, it may be worth activating the card only the next day.
3. Explore
Your planning is done, your Omnia Card is in your pocket. Now all that's left for you to do is explore the Colosseum and Rome's other attractions at no further cost.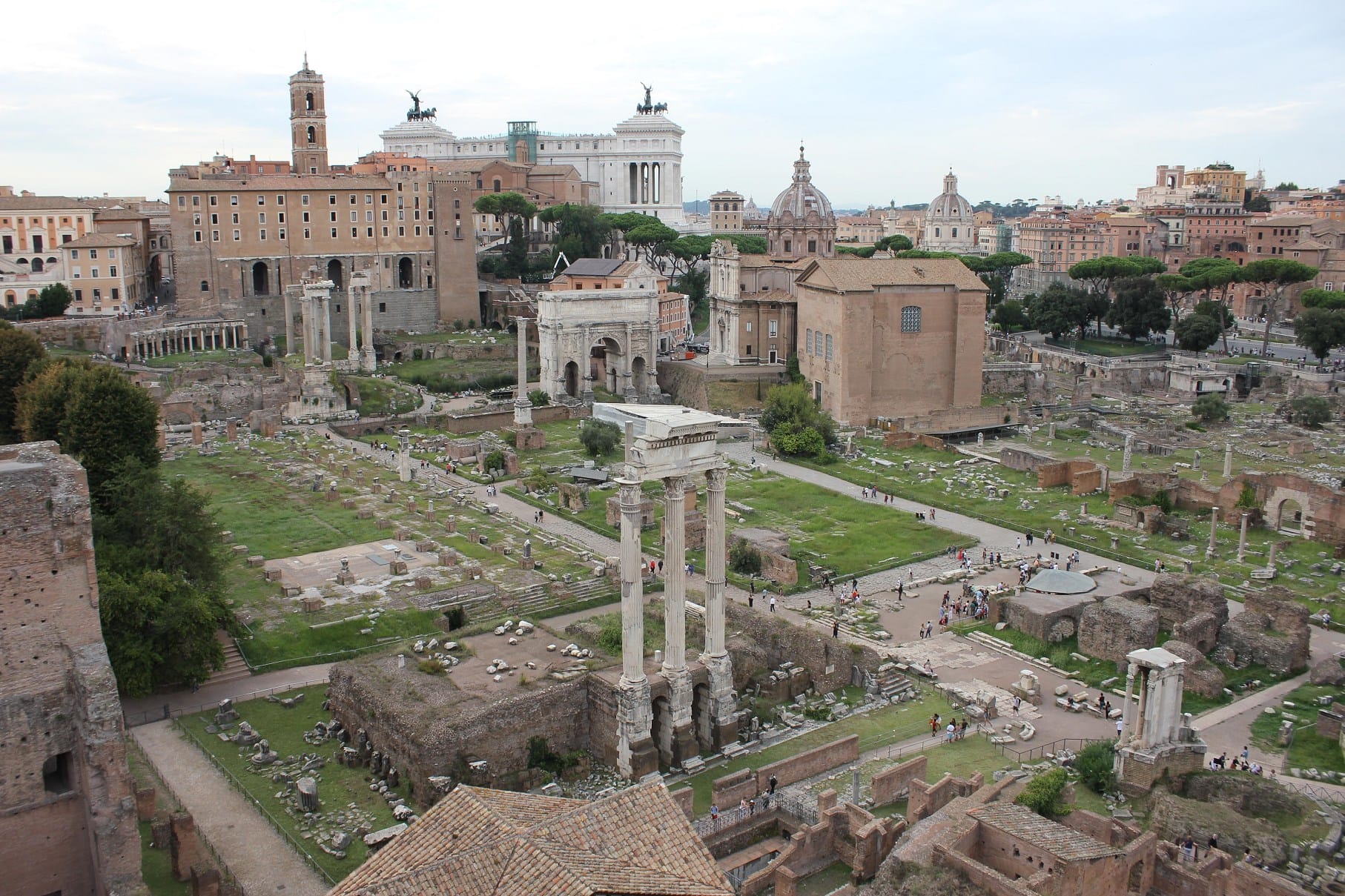 How does the Omnia Card Rome work?
The Omnia Vatican & Rome Card is a 72-hour sightseeing pass that gives the holder free entry to top attractions in Rome and the Vatican City. It includes fast-track entry, a hop-on-hop-off bus tour, free guidebook and a travel card for public transport. It's tailor-made to save visitors to Rome both time and money while sightseeing in the Eternal City.
The Omnia Vatican & Rome Card also includes a 72-hour Roma Pass. The Roma Pass allows free admission to two of the following main attractions: Colosseum, Roman Forum and Palatine Hill, Capitoline Museums, National Museum, Castel Sant'Angelo, and Carcer Tullianum.
What makes the Omnia Vatican & Rome Card unique compared to other Rome city passes, is that it includes free entry to the Vatican Museums with Sistine Chapel. As a bonus, you'll get an audio guide for St Peter's Basilica while entering this great church through a dedicated entrance.
More benefits of the Omnia Card
 

A hop-on-hop-off Rome bus tour

ticket for 3 days.
  72-hour travel card for use on Rome's public transport network.
 

A guidebook

with details on all the attractions to help you plan.
 

Discounts

to over 30 additional sights and attractions in Rome.
Do I get fast-track entry with the Omnia Card?
Yes, priority access to the Vatican Museums, St Peter's Basilica and the Colosseum is included in the Omnia Card.
Who is the Omnia Card good for?
1. First time visitors
Novice visitors to Rome who like to combine a visit to the Vatican Museums and St Peter's Basilica with a visit to the Colosseum and one other top Rome attraction while benefiting from free public transport.
2. Sightseeing tour fans
You like the idea of seeing and learning more of Rome from the comfort of a hop-on-hop-off bus instead of using the metro or public buses.
3. Rome lovers
People who want to see as much as possible of Rome in a limited time and on a budget.
The Omnia Vatican & Rome Card costs €113. However, there are often seasonal specials with up to 25% discount.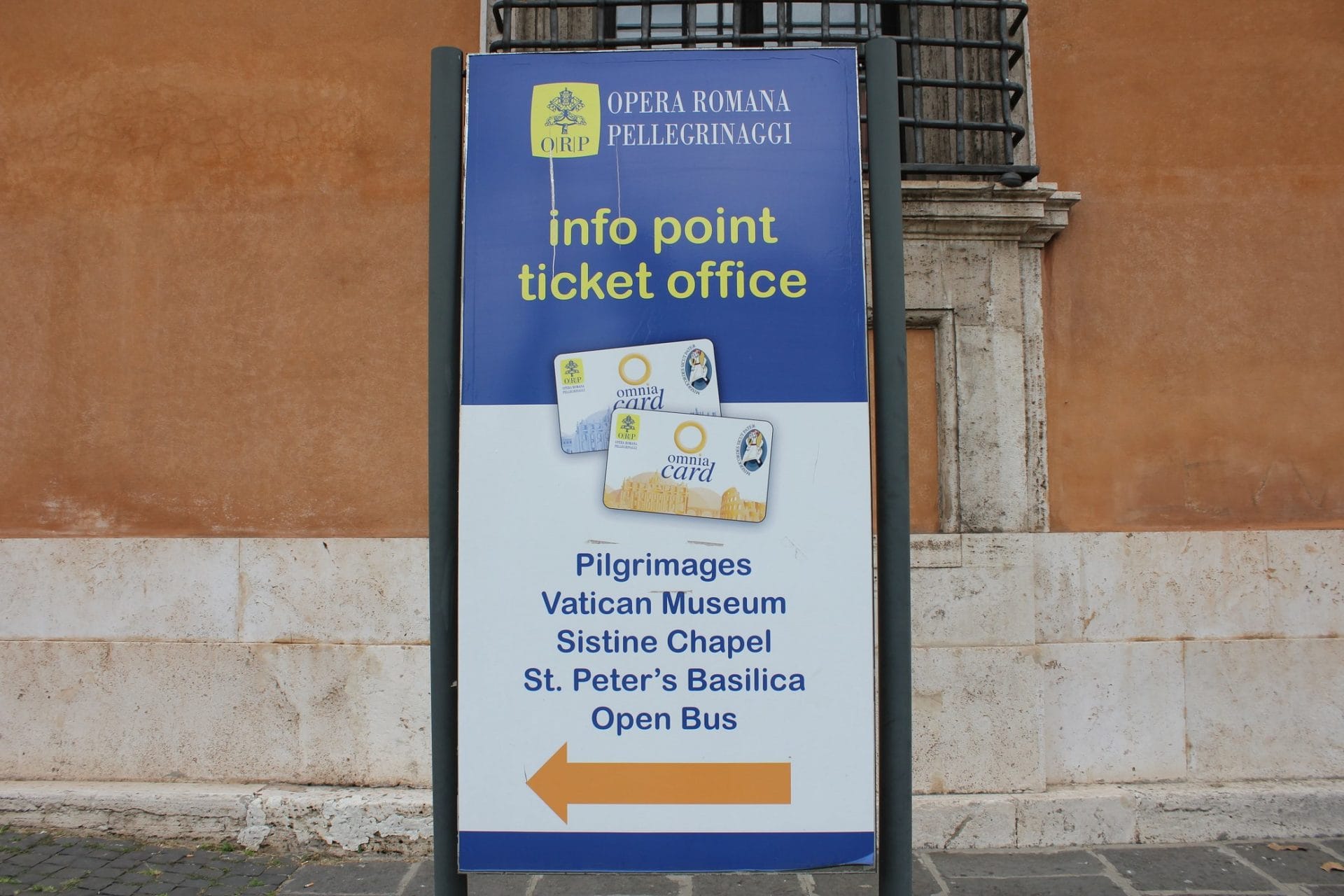 Tips to organise your Colosseum visit with the Omnia Card Rome
The Colosseum, or Flavian Amphitheater, is not only the most-visited attraction in Rome but in the whole of Italy. Up to 6 million people visit this magnificent archaeological site every year.
If you're planning on being one of them, it's best to do your research before arriving to ensure a rewarding Colosseum visit.
Here are some important facts to keep in mind:
Colosseum skip the line tickets
During the peak tourist season in Rome, people can queue for up to 5 hours to get Colosseum tickets. Fortunately, you can avoid this with an Omnia Card which includes skip-the-line access to the Colosseum.
IMPORTANT TO NOTE: Even though your Omnia Card with Roma Pass includes free fast-track entry to the Colosseum, you must still reserve a time slot for your visit on the official reservation website.
Interesting to know: The Rome city fathers recently introduced a S.U.P.E.R ticket for the Colosseum and Roman Forum/Palatine Hill. It stands for Seven Unique Places to Experience in Rome. The ticket, which costs €18, allows only one entrance to the Colosseum but two entries to the Roman Forum/Palatine Hill (one a day). The ticket is valid for two consecutive days.
The S.U.P.E.R ticket allows entry into 7 special areas that up to now were only accessible through guided tours or during temporary exhibitions. They include the Santa Maria Antiqua and Romulus's temple. Others, like the Loggia Mattei and the Aula Isaica are now open to the public for the first time.
Entrance to the Palatine Museum is not included in the Omnia Card for Colosseum tickets. Since you'll need at least 2 days to fully appreciate the S.U.P.E.R ticket, this isn't an option for novice visitors anyway. Besides, all ongoing exhibitions at the Colosseum and Roman Forum/Palatine Hill area are included in the free Roma Pass entry which you get with the Omnia Card.
Remember: No matter where you buy your skip-the-line Colosseum tickets, you must still queue in the entry and security lines. However, you'll save a lot of time by avoiding the ticketing queue.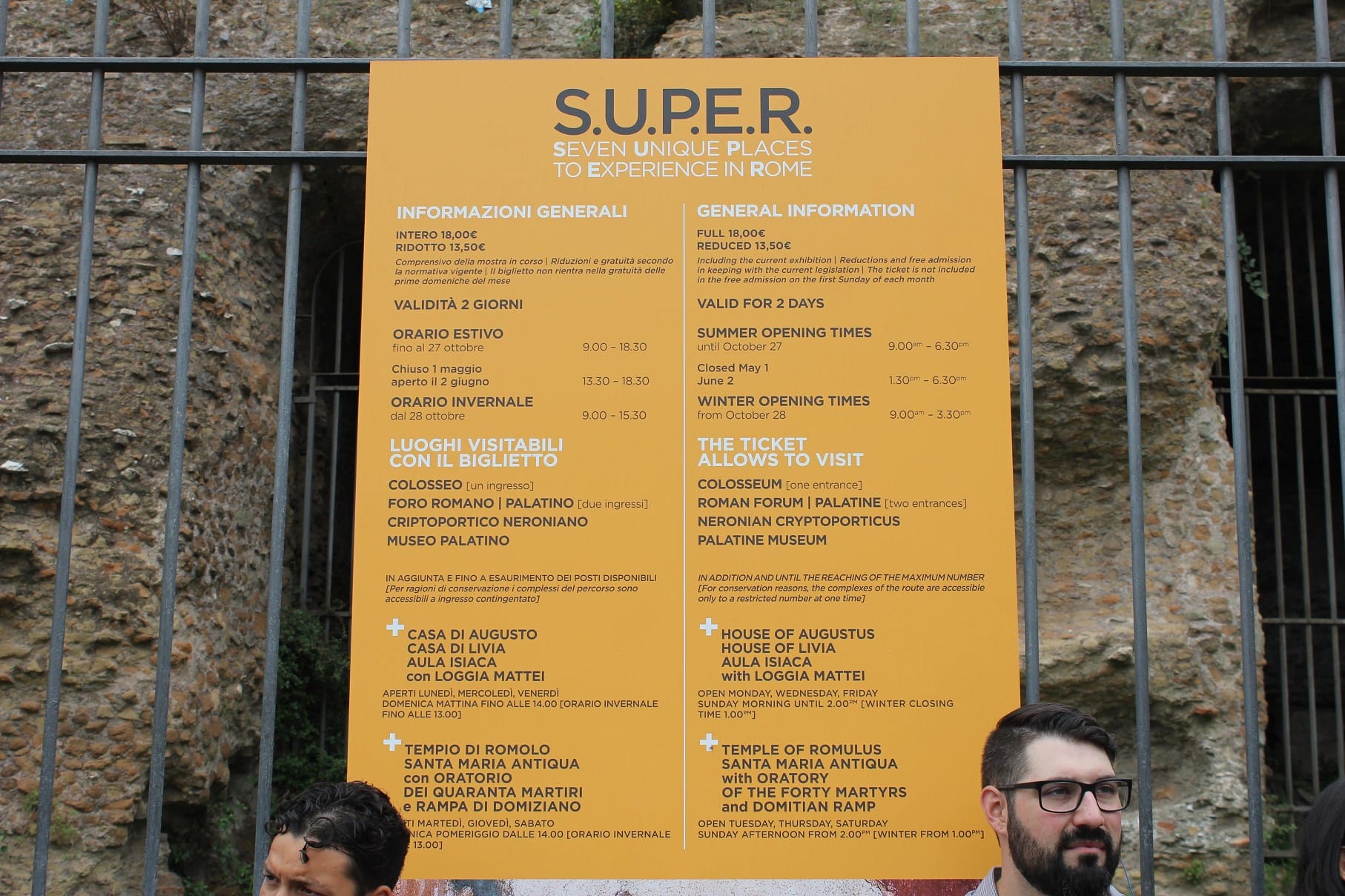 Roman Forum and Palatine Hill
You shouldn't forget the OmniaCard for Colosseum tickets, just like regular Colosseum tickets also include the Roman Forum and Palatine Hill. The standard ticket price is €12, with an added online booking fee of €2. priority entry to all 3 attractions. (A processing fee of €2 is charged when you buy Colosseum tickets online.)
The ruins of the Roman Forum tell the story of day-to-day life in ancient Rome. You'll get a glimpse of what the Roman Kingdom's earliest shrines and temples, palaces, triumphal arches, and market squares looked like with or without the S.U.P.E.R Card.
This is where Romulus is said to have started Rome's first settlement in around 8 BC. Excavations have revealed huts and tombs from the iron age, an ancient fortification, places of worship, and imperial palaces on this hill overlooking the eternal city. Just walking around there is informative enough without necessarily visiting the Palatine Museum on your first visit to Rome.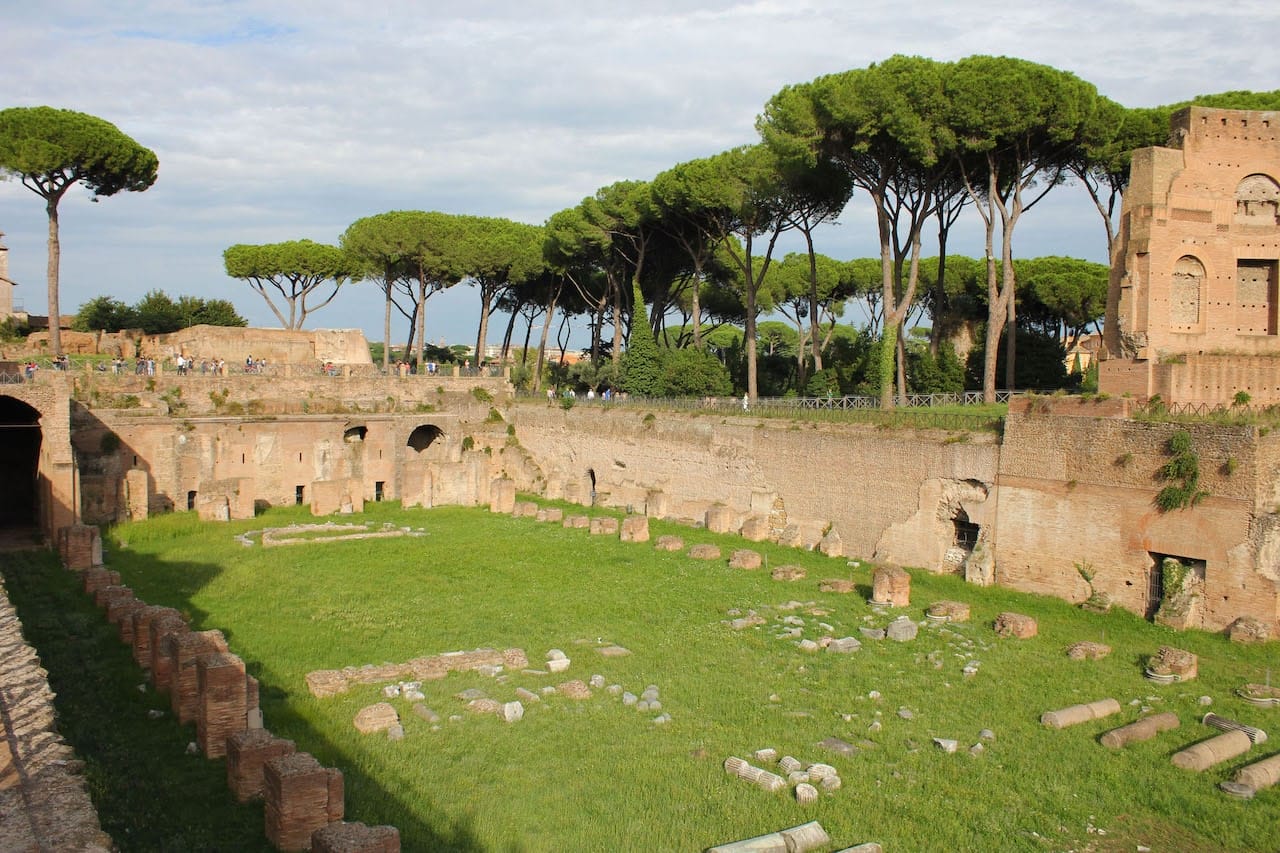 It should be clear that if you want to visit both the Vatican and the Colosseum, the OMNIA Card Rome is a good value-for-money tourist card. The fact that you can use the OMNIA Card for Colosseum visits, including the Roman Forum and Palatine Hill, is a huge bonus.
Why not go ahead and buy it now so that you have time to familiarise yourself with all the benefits while planning your Rome itinerary?