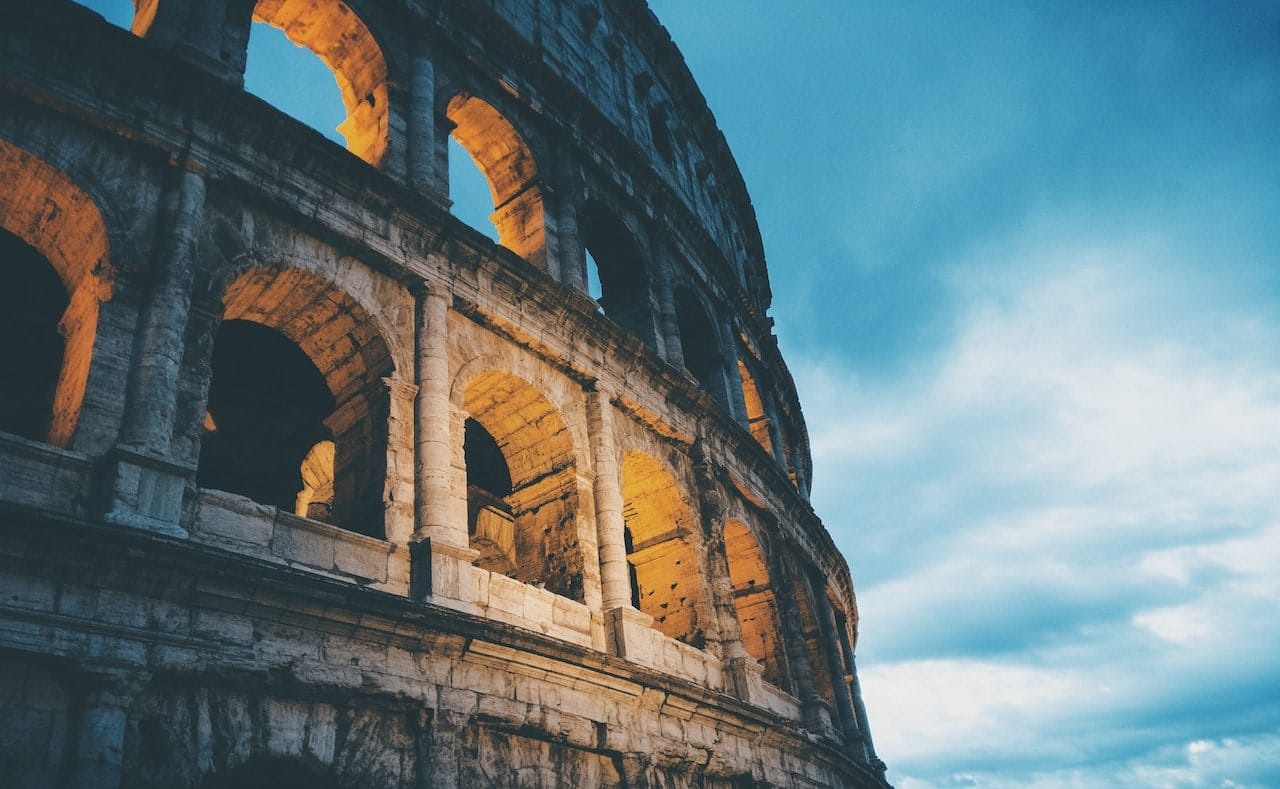 Colosseum Tours at Night – Why Colosseum by Night Worth it
Wondering if you can book a Colosseum night tour ? The Colosseum is impressive at any time of day, but at night, it's somehow even more magical. When the sun sets, the huge amphitheatre is lit up from within, so it's beautifully illuminated.
But you don't just have to admire it from nearby, you can actually visit and go inside the Colosseum at night. The dark makes the visit even more authentic, as you're cast back to the gloomy gladiator days, when men and animals would have fought and been slaughtered in the arena.
So how can you visit Colosseum at night? The answer is by joining a Colosseum night tour. Here's everything you need to know about how to visit Colosseum at night.
Can you visit the Colosseum at night ?
A Colosseum night tour (only available during high season) is a great way to enjoy a crowd-free Colosseum experience. Crowds are often the worst part of visiting an iconic monument – they block your views, and it's hard to get a good picture without a random tourist's head making an appearance.
But at night, only a few tour groups are allowed into the Colosseum, so it's a great chance to enjoy the amphitheatre in peace (book here during high season). You'll also get some great travel photos.
Visiting the Colosseum at night also gives you the chance to explore areas of the Colosseum that aren't open to the general public. You'll get to see the underground Colosseum, known as the hypogeum, where gladiators waited to enter the arena for battle.
At night this underground area (tour ticket here during high season only) is even more atmospheric, as you explore the dimly lit underground passages you'll walk the path that so many gladiators walked before they met their end.
And with a knowledgeable guide leading the way, you'll learn all about the history and architecture, and if you've got any questions, your guide will have the answers.
If you want to go further by combining your visit with the Colosseum and Ancient Rome tour by night (+ Underground), you can join the 2,5-hours tour for €67 per person.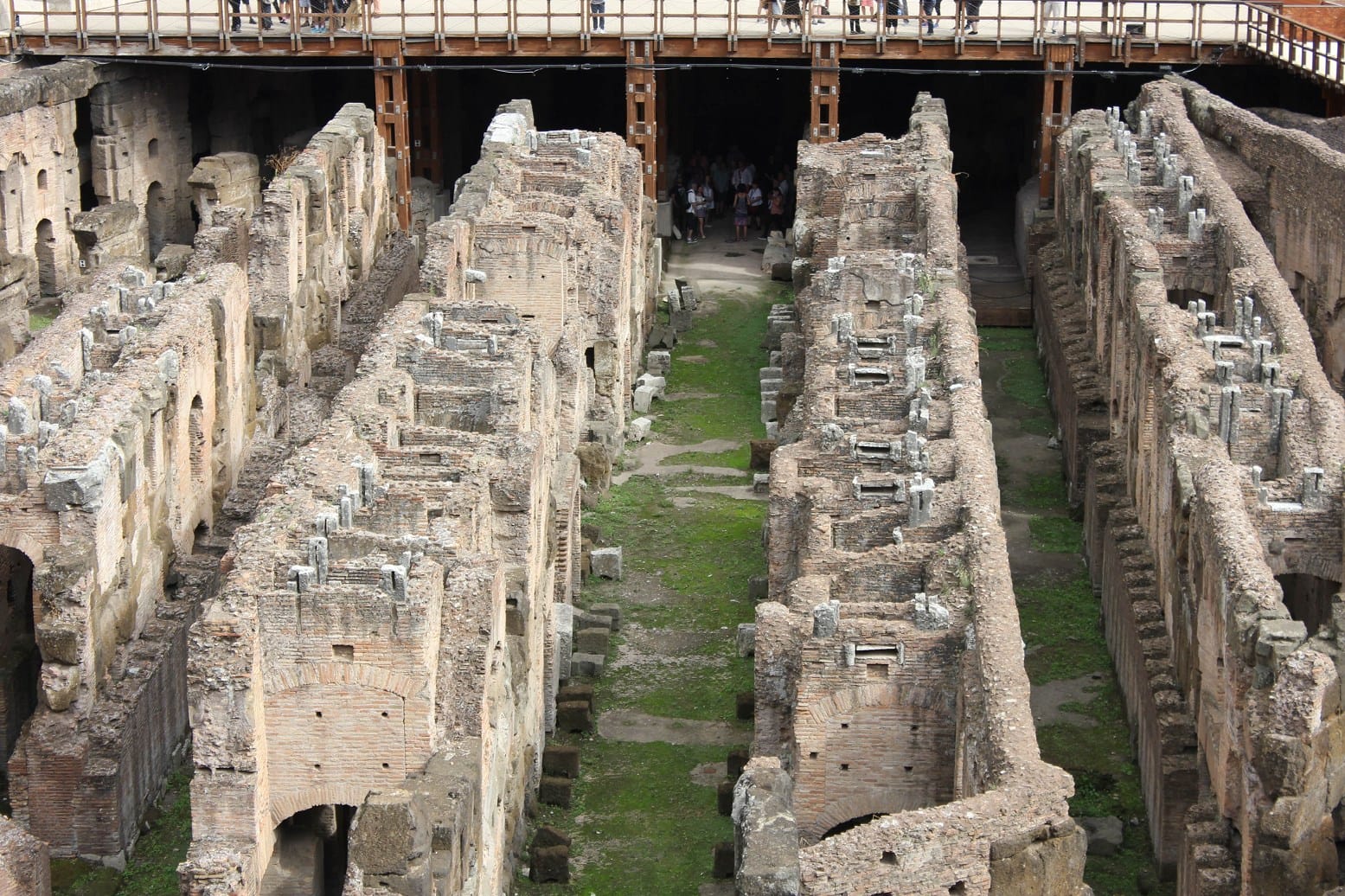 When is the best time to visit the Colosseum at night ?
The Colosseum night tours are mainly available during the summer months, so whilst it involves visiting the Colosseum during peak season, you'll get an off-peak experience by visiting after the official closing hours.
The cool, but still warm evening temperature also makes it a great alternative to exploring in the blazing heat.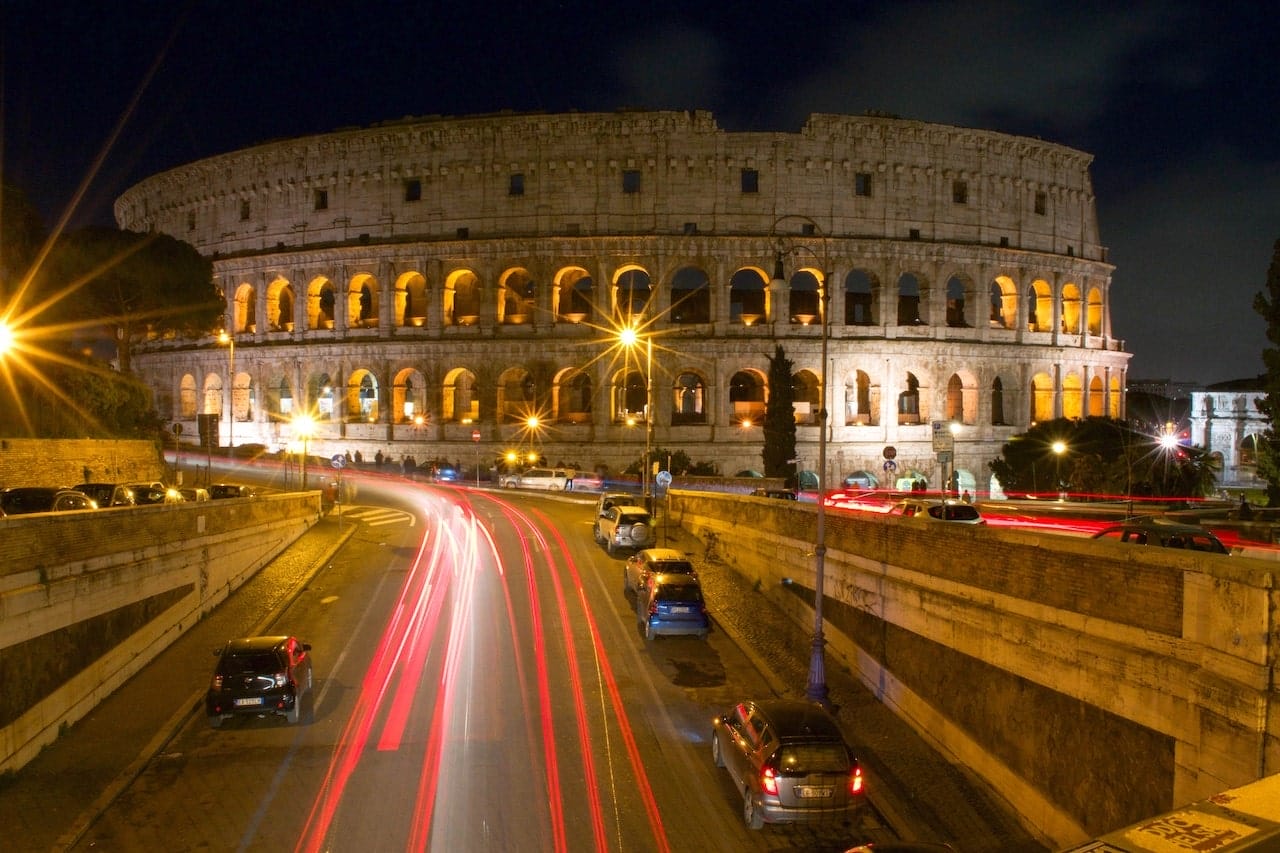 Is the night tour of the Colosseum worth it ?
Colosseum tours at night last around one hour (standard tour) or two and a half hours (combined tour) and during that time you'll see the Colosseum at its finest, lit up with dazzling yellow lights under a canopy of stars.
You'll have an English-speaking guide lead you through the different parts of the Colosseum, including the underground passageways, whilst telling stories of the Colosseum's glory days. You'll learn about the battles, the executions, and you'll see where the upper marble seats would have been, and the lower class wooden benches.
The night time tour will bring history to life with chilling tales set in the shadowy passages and historic arena. With less people around, you'll be able to more vividly imagine what the Colosseum was like.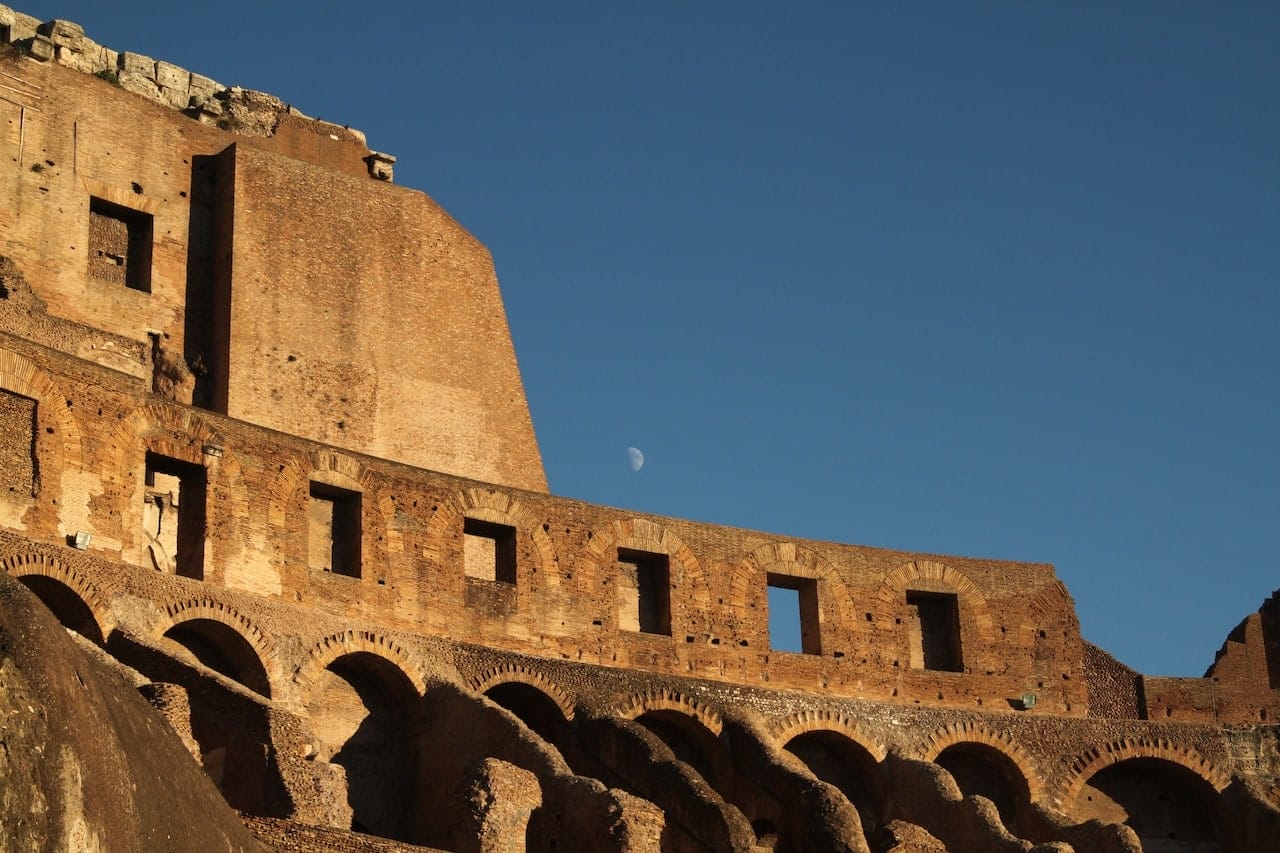 Which tour companies do night Colosseum tours ?
So you've decided to visit the Colosseum by the light of the moon, but first you need to secure your tickets.
You can book your Colosseum night tickets online (see here) for just less than €10 more than a skip the line day ticket. So for some extra euros you get to see the Colosseum beautifully illuminated in high season, without bustling crowds.
And that even includes access to the underground Colosseum – something that isn't included with standard entrance tickets.
Does the Roma Pass give you any money off a night tour ?
Rome-tourist-passes save you time and money. The Roma Pass can be bought from any official tourist office, and it's a great solution for anyone on a budget. You can also book your pass online here to be prepared in advance and save time.
It gives you daytime access to the Colosseum and one other attraction of your choice, as well as discounts on hundreds of other attractions.
The card is also valid for either 48 (€28) or 72 hours (€38,50), so you'll have plenty of time to make the most of the discounts and free attraction entrances.
However, the Roma Pass can't be used for Colosseum tours at night. For this you'll need to pay full price for a night tour (ticket here). But you can use it as a travel card, so you'll save money traveling to your Colosseum night visit, and you'll save your Roma Pass free entrance for another top attraction.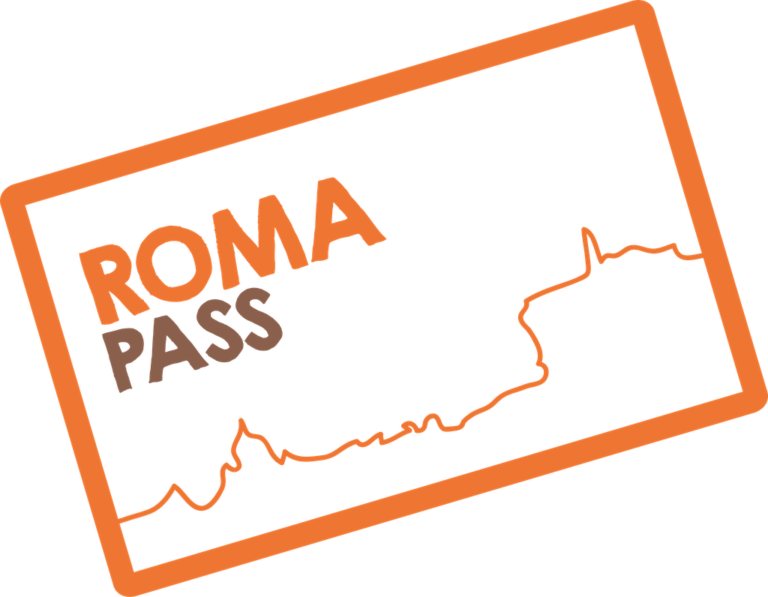 Summary of Colosseum Night Tour Tickets
| TOUR | HIGHLIGHTS | DURATION | PRICE | BOOKING |
| --- | --- | --- | --- | --- |
| Colosseum Underground and the Arena at Night | - Exclusive access to Colosseum by night - Access to Undergrounds and Arena - See the illuminated Roman Forum ruins | 2.5 hours | €79 | Book here |
FAQ (Frequently Asked Questions)
Is it better to see Colosseum at night or day ?
If you don't like crowds, visiting Colosseum at night is better choice. Also, you can see some parts that are not available at the daytime. Plus, it's more romantic. However, if you want to take spectacular pictures, visiting at daytime might be better for your album.
Is the Colosseum safe at night ?
Generally, Rome is a safe city. So, if you take a night guided tour around the Colosseum, there is nothing to worry about.
What time does the Colosseum lit up at night ?
Like any other attraction, the Colosseum is illuminated as soon as it starts to get dark.
Which nights can the Colosseum be toured ?
It should be possible to choose any day. But look at certain tickets and see what you can book.
Rome's Colosseum is even more beautiful at night. As the yellow lights illuminate the amphitheatre within, the Colosseum appears glowing and triumphant, standing tall above the streets of Rome.
But to fully experience the beauty of the Colosseum, you need to do more than just admire it from afar, you need to book one of the best Colosseum night tour.
To extend the pleasure of seeing the Colosseum lit up at night, we recommend the 3-hours Rome Night Tour below to enjoy all the illuminated monuments of Rome: