What You Should Not Miss on Your First Trip to Rome?
---
Traveling to Rome may be on your cards, but do you know how to do it right? You can choose to prepare a list of sites to visit or the things to do. Are you aware of the various aspects of Roman culture that you should be mindful of during your trip?
Of course, you will start planning by checking the Rome weather to shortlist the dates for the trip. It is always better to check the forecasted conditions before planning any trip. Rome clock's the highest annual average temperature of 33.5°C or 92.3°F. August 7th is the hottest day as per the historical weather data. So you can avoid traveling around that time.
Romans are a friendly lot, and you can strike a conversation in English with most of them. But how can you properly ask? What are the most common cultural attributes?
Although digitization is on the rise, cash is still largely prevalent in the Italian economy. So when you travel, make sure to carry enough cash with you. Spicci or coins are the most welcomed currency forms at the cafes. Therefore, keep an abundance of this precious commodity in Rome.
Big restaurants accept payments via cards but traditionally disallow bill splits. It can be an issue, especially when you are traveling as a group. So keep cash handy to avoid such situations.
Advance Purchase of Transportation Tickets
If you have to commute within the city by bus, you should purchase them in advance. The reason being that you do not have an option to get them on the bus. The tickets are available at any of the tabaccheria in the city. These are small convenient shops with a designated large T.
The tickets are available for twenty-four hours, forty-eight hours, or weekly travel plans at discounted rates. Each ticket costs €1.50. The good thing is that the tickets are valid for all forms of transportation in Rome. It includes buses, local trains, trams, and the metro.
There are a few etiquettes and customs that the Italians follow. Knowing these can help you converse easily and get your choice of food and beverage.
Your beverage bill can double up if you opt for the coffee on your table. The best way to avoid getting the service charge levied is to order your coffee directly at the bar.
After entering the cafe, you can find the manager and put your order. You can carry the receipt to the bar to get your choice of beverage. Italians generally spend a short time on their coffee. So drinking an espresso takes only a minute, and it is better while standing.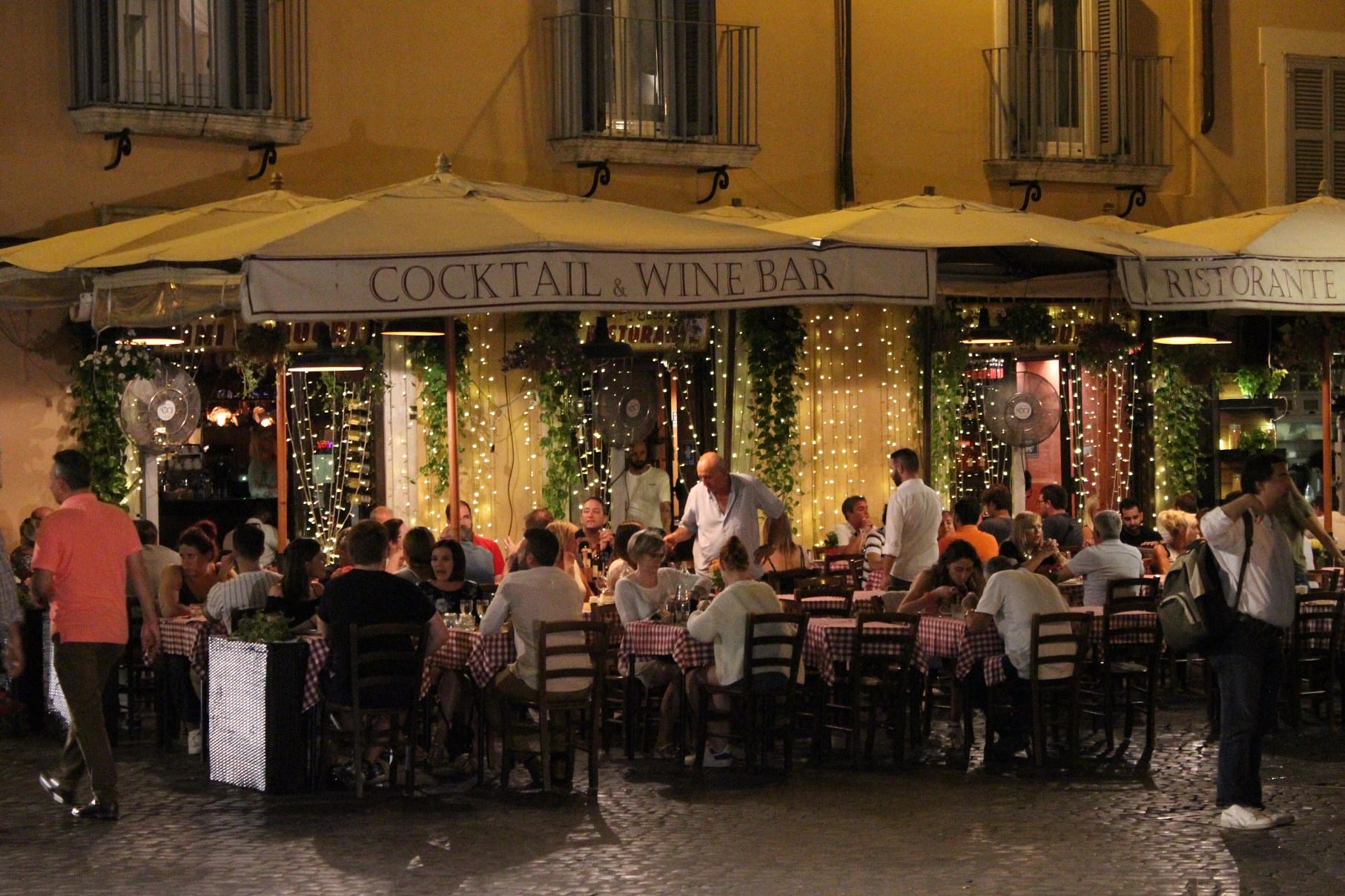 Traditionally tipping for the services is not included in Italian culture. The coperto or cover has a service charge as part of the bill. It often accompanies the breadbasket. However, when you leave a few extra coins on the table, it is often appreciated.
You can choose to leave around five to ten percent of the bill value on the table. The amount can depend on your group size, quality of service, and meal price.
You can avoid committing one of the most infamous food crimes by opting to order a cappuccino before noon. Italians are fussy about their digestion. They consider milk to be heavy on the stomach and is appropriate only at breakfast.
During the breakfast hour, your frothy cappuccino can pair with the famous Italian croissant, a cornetto. You can also note that a caffè macchiato is an acceptable alternative that you can enjoy at any time of the day. It is an espresso with a small amount of milk. Even if you order it in the evening, you will not be prey to any raised eyebrows.
The persistent traditions and customs of Italy can seem a little difficult for you to navigate. A pleasure that you can enjoy without worrying about these is to delve yourself into a gelato.
Italians love their gelato and savor them all year-round. The seasonal flavors by Rome's best artisanal gelaterias make sure that you enjoy them in every season. You can scan through the compelling combinations of hazelnuts and pistachios or check the juicy fruit flavors.
So after you have your tour itinerary ready, the above can help you set a few precedences for your upcoming Rome trip. It is not an exhaustive list, as the Roman customs are diverse and have a lot of nitty-gritty. But it can help you to be mindful of a few things that you may face.