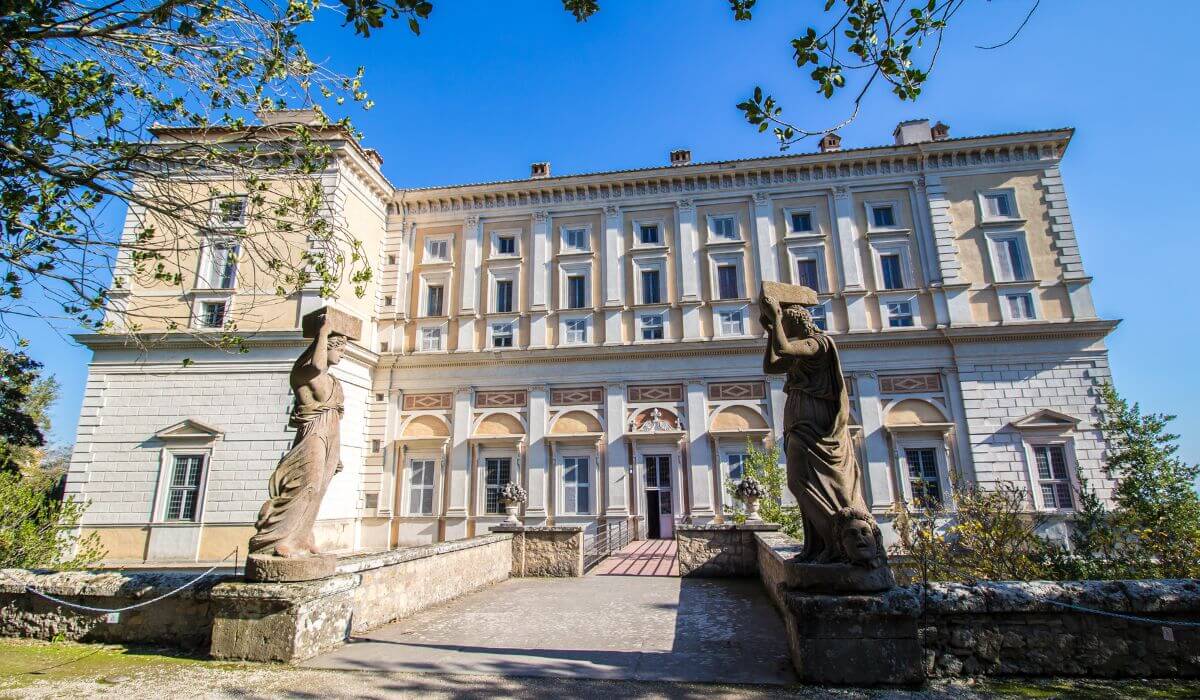 Villa Farnese in Caprarola: History, Facts & Guided Tours
---
The Villa Farnese looks pretty interesting from the air. It's shaped like a pentagon with a 5 sided courtyard in the middle.
It sits imposingly over the town of Caprarola, which is located just over 50 kilometers from Rome. It is known for its renaissance style architecture and striking appearance.
If you are looking for a little day trip outside of Rome then the Farnese Villa Rome could be a place for you to visit.
A Short History of Villa Farnese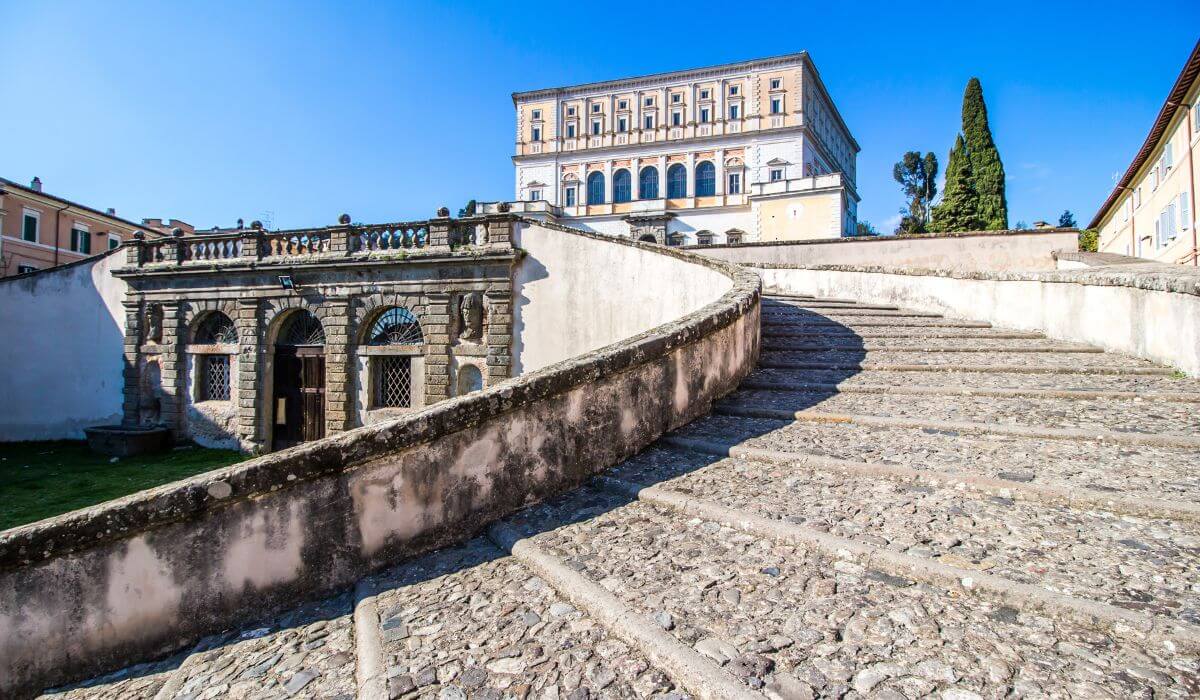 In the early 16th century, a man who would later become Pope Jean Paul III took possession of a plot of land at Caprarola.
He had grand designs for the space – planning a striking fortification atop of the town. This 5 sided structure or fort became the blueprint for the later villa.
This was commissioned by his grandson in 1556, with the view to turn it into a grand country home. Giancomo Barozzi da Vignola was nominated as the architect by Cardinal Alessandro Farnese to begin the works.
Italian Architect Famous For The Villa Farnese
The Villa Farnese architect was Giancomo Barozzi da Vignola.
He is credited to be one of the most famous and influential architects of the Renaissance period, particularly leading the way amongst those showcasing a mannerist style.
An interesting fact – the remains of Vignola lie in the Pantheon in Rome!
Facts about the Farnese Family
The Farnese family were pretty influential. Amongst their line included dukes, cardinals, popes and even the future Queen of Spain.
Their position of power grew in the 14th century as they acquired land and other possessions in return for political favors. When the aforementioned member of the Farnese family became Pope John Paul III there was no shortage of wealth and power.
The line is believed to have died out in the 18th century with Queen Elizabeth of Spain being the last heir – she passed her successions on to the Bourbons.
Don't Mix Villa Farnese and Villa Farnesina
Pretty confusing huh?
Well, let's ensure you don't mix the two up and end up at the wrong place!
The Villa Farnese is located 50kilometres to the north west of Rome in the town of Caprarola. You can book official tours from Rome for under €200 to include lunch.
The Villa Farnesina is an equally splendid villa, but it is located right in the center of Rome. It is also possible to book tickets and guided tours for this attraction, such as this tour with a Renaissance art guide.
Farnese Palace Caprarola Outside Look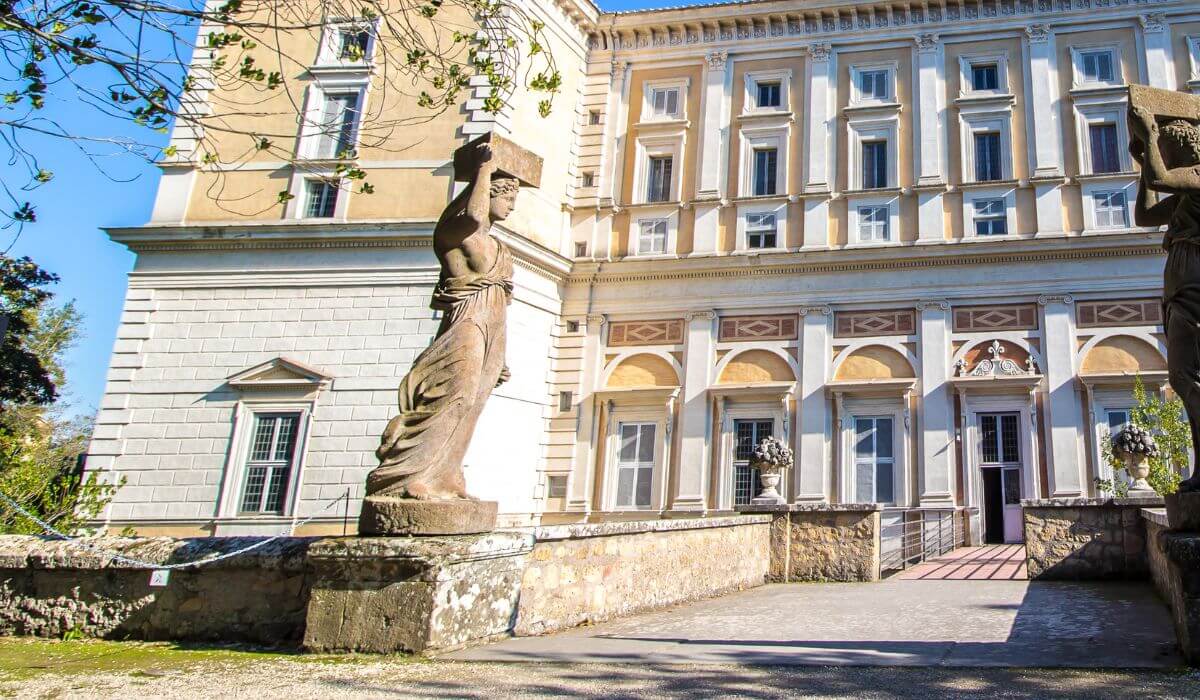 The exterior of the stately home is pretty striking.
The Villa Farnese architecture features a prominent staircase leading to the upper levels. You certainly get a wow factor as you approach the central piazza from the little town of Caprarola.
The most striking Villa Farnese construction parts for us are the beautiful arched windows interspersed with columns.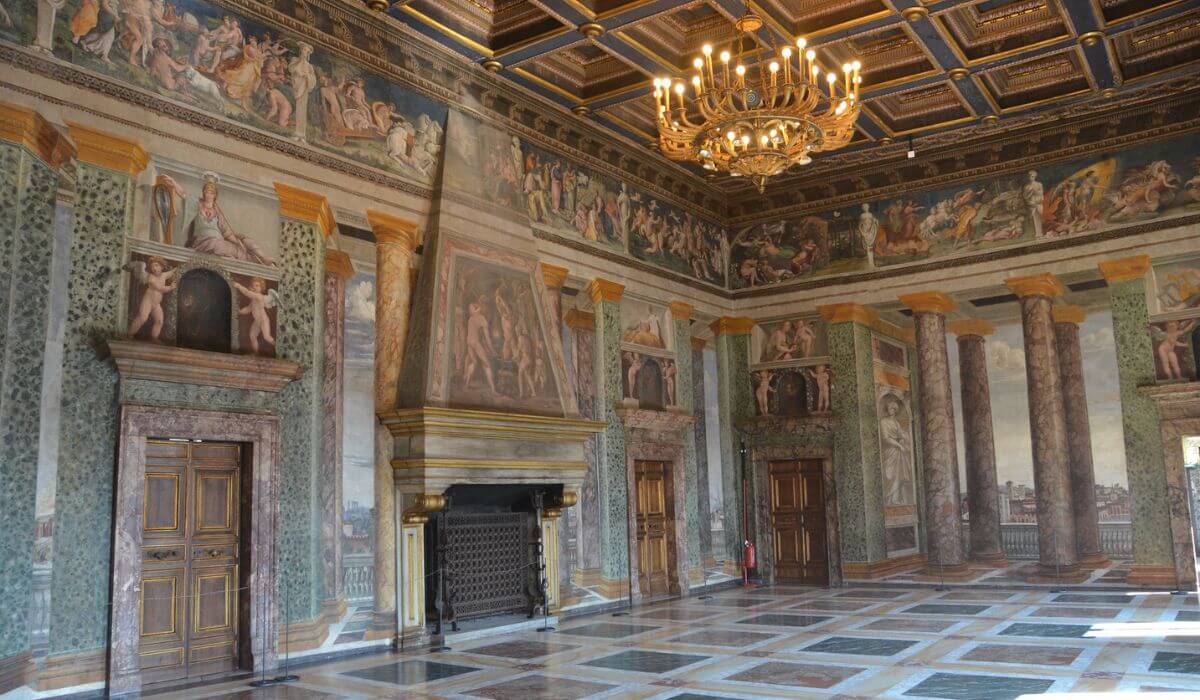 Just as interesting as the outside, the interior too does not fail to impress.
The Villa Farese floor plan indicates a number of rooms, each more interesting than the next.
Spread over 5 floors, each wing or floor had its own specific function.
On the first level, the Room of Hercules provides sweeping views over the town and is known for its Villa Farnese frescoes of Hercules.
In this part of the building there are 2 luxury 5 roomed apartments with beautiful Villa Farnese ceiling details. Of note in the villa, the family were certainly not bashful when it came to declaring their successes.
All over the rooms you can find frescoes that depict tales from lives of important Farnese family members!
What Makes The Villa Farnese Gardens So Attractive?
The gardens around the villa are also worth a look.
They contain themes carried through from the house itself, including nods to the original fortress. Little drawbridges cross over a moat and there is even a whole wood to be explored.
Villa Farnese Casino Explained
Located in the grounds of the Caprarola Villa Farnese is its famous casino.
Do You Need a Guided Tour for the Best Villa Farnese Experience?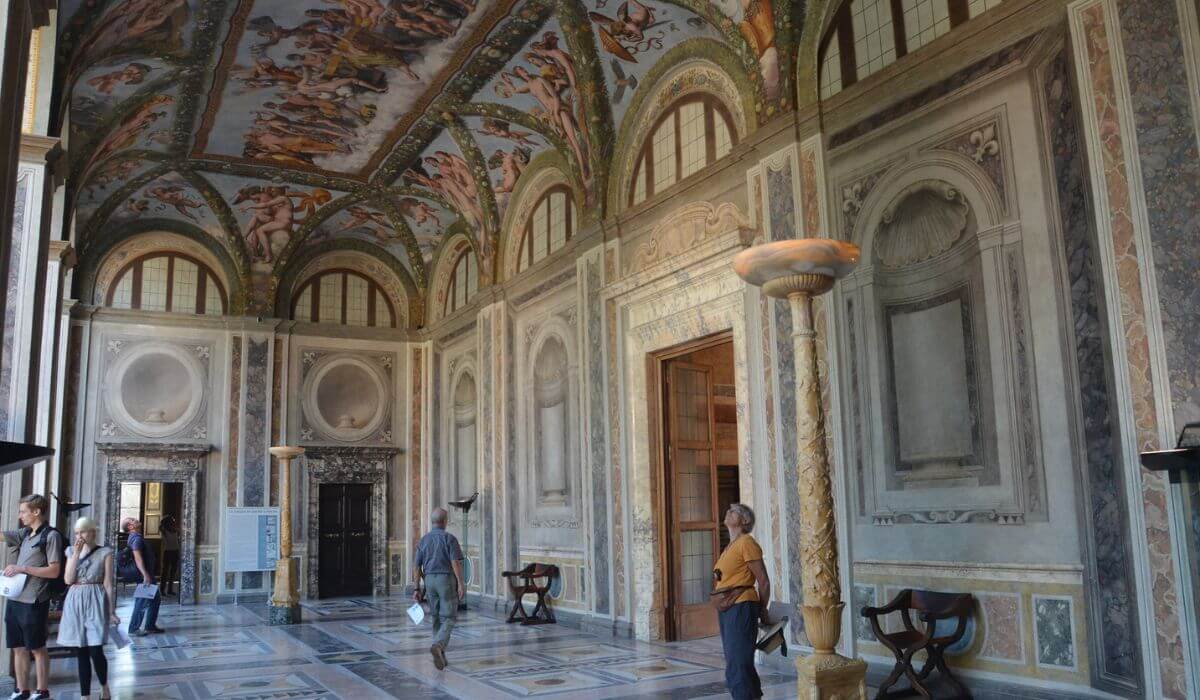 We recommend taking a guided tour direct from Rome and benefiting from the whole package. Then you won't need to worry about transport or how to get there. This one costs just €172 and includes transport as well as a delicious local lunch.
Farnese Villa Location & How To Visit
The Farnese Palace Caprarola is located just over 50 kilometers to the northwest of Rome.
If you do not want to take a guided tour yourself, you will have to make your own way there. A taxi will take about one hour and costs around €100.
You can also take a bus direct from Rome Saxa Rubra for just €3. Check out the location of this beautiful villa on our Villa Farnese Map.
Villa Farnese Caprarola Opening Hours
| Days | Opening Hours |
| --- | --- |
| Tuesday - Sunday | 8.30am -7.30pm |
| Monday | Closed |
| New Year's Day - Christmas Day | Closed |
You can visit the place between 8.30am and 7.30pm daily on Tuesdays through Sundays. The house is closed on New Year's Day and Christmas Day, as well as every Monday.
Villa Farnese Rome Tickets
Tickets cost €10 for standard adult entry and can be purchased in advance on the website – link here.
There is a 1 Euro reduction for teachers or other educational professionals, and students pay only €7. Children under 10 and those with disabilities can enter for free.
Day Trips Ideas Around Caprarola
If you are coming the whole way out to Caprarola then you may be interested in spending a few more hours in the area.
Try Viterbo Cathedral, a food tour or a walk around the local town shops for souvenirs.
3 Best Hotels Near Villa Farnese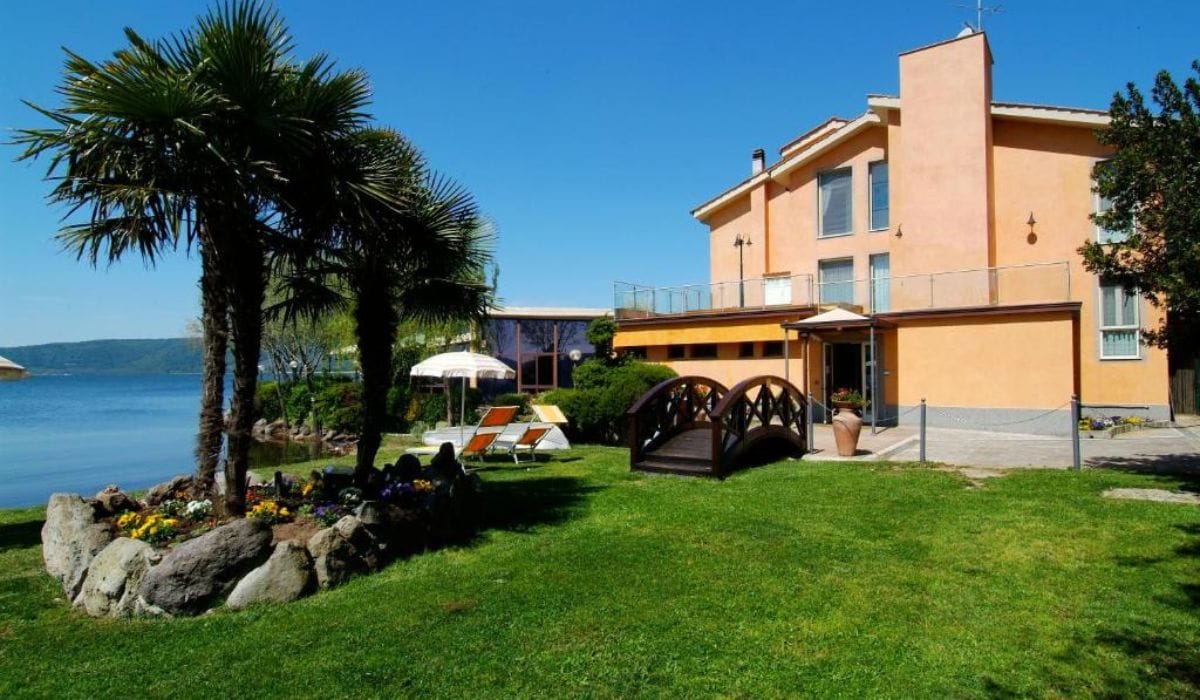 Looking to overnight in the area?
Then here are three great hotel choices near the town of Caprarola:
Hotel La Bella Venere – Offering gorgeous lake views (we recommend taking breakfast outside) and just a 10 minute drive from the Villa, a double room at this sweet hotel will cost around

€100

per night.
B&B La Rocca – Old style charm and stunning views await you in this hillside bed and breakfast. A double with breakfast will cost around

€75.
B&B Le Bacette – Gorgeous countryside location and a plunge pool, this is a home away from home in the countryside.
Frequently Asked Questions

Who painted 'A Scene In the Grounds of the Villa Farnese, Rome?'
This beautiful painting of the gardens of the Villa Farnese was completed by Hubert Robert.
Is Villa Farnesina same as Palazzo Farnese?
They are not the same so don't get confused. The Villa Farnese is a stately home located 50 kilometres out of Rome. The Palazzo Farnese is right in the heart of Rome.
When was Villa Farnese built?
The country house was completed in 1504.
Who Built Villa Farnese?
The Farnese Family commissioned and had built this striking villa.
If you have a bit more time in Rome – for example, if you are staying for a week or more – then consider taking a day trip out to the Villa Farnese Caprarola Italy.
Of course, there are lots of other day trips available from Rome.