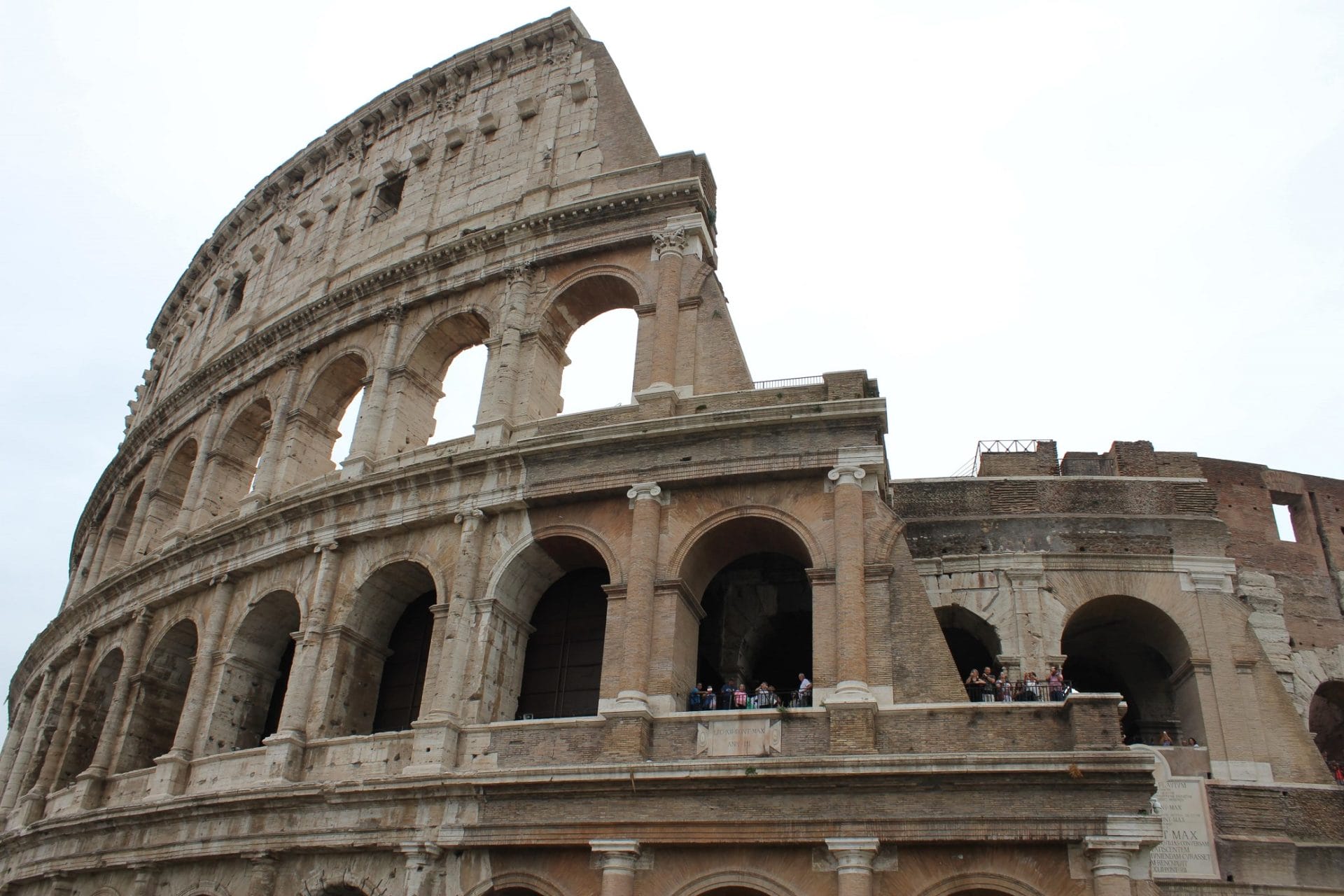 On

February 20, 2019

Tags:
No Comments
How to visit the Roman Colosseum ? – tips & informations
---
Rome is a beautiful city and the Colosseum is a breath-taking ancient amphitheatre. Every street, every church, every monument is like nowhere in the world. It's a city like no other and everyone should visit at least once in their lifetime.
This unfortunately means the city can be busy and overwhelming because everyone wants to see the Eternal City in its splendour. Going to Rome may seem like a large project because there is so much to see and so little time but it is vital you visit the Colosseum when you're there.
Planning your visit ahead will make your experience more fulfilling, less stressful and will save you both time and money.
If you're planning on visiting the Colosseum in Rome, here are our tips for visiting the eternal city, including the history, pricing, tickets, how to get there and everything more.
What is the Roman Colosseum?
The Colosseum is an oval shaped amphitheatre, situated just east of Roman forum and Palatine Hill. Still mostly intact, this amphitheatre dates as far back as AD 72. Built from sand and concentre, the building would have once fitted about 80,000 people in at one time and was used to stage gladiatorial matches and other public spectacles.
Believed to be the largest amphitheatre ever built, it stands 48 metres high (That's only 8 meters shorter than the Leaning Tower of Pisa and covers 6 acres (24,000 m2).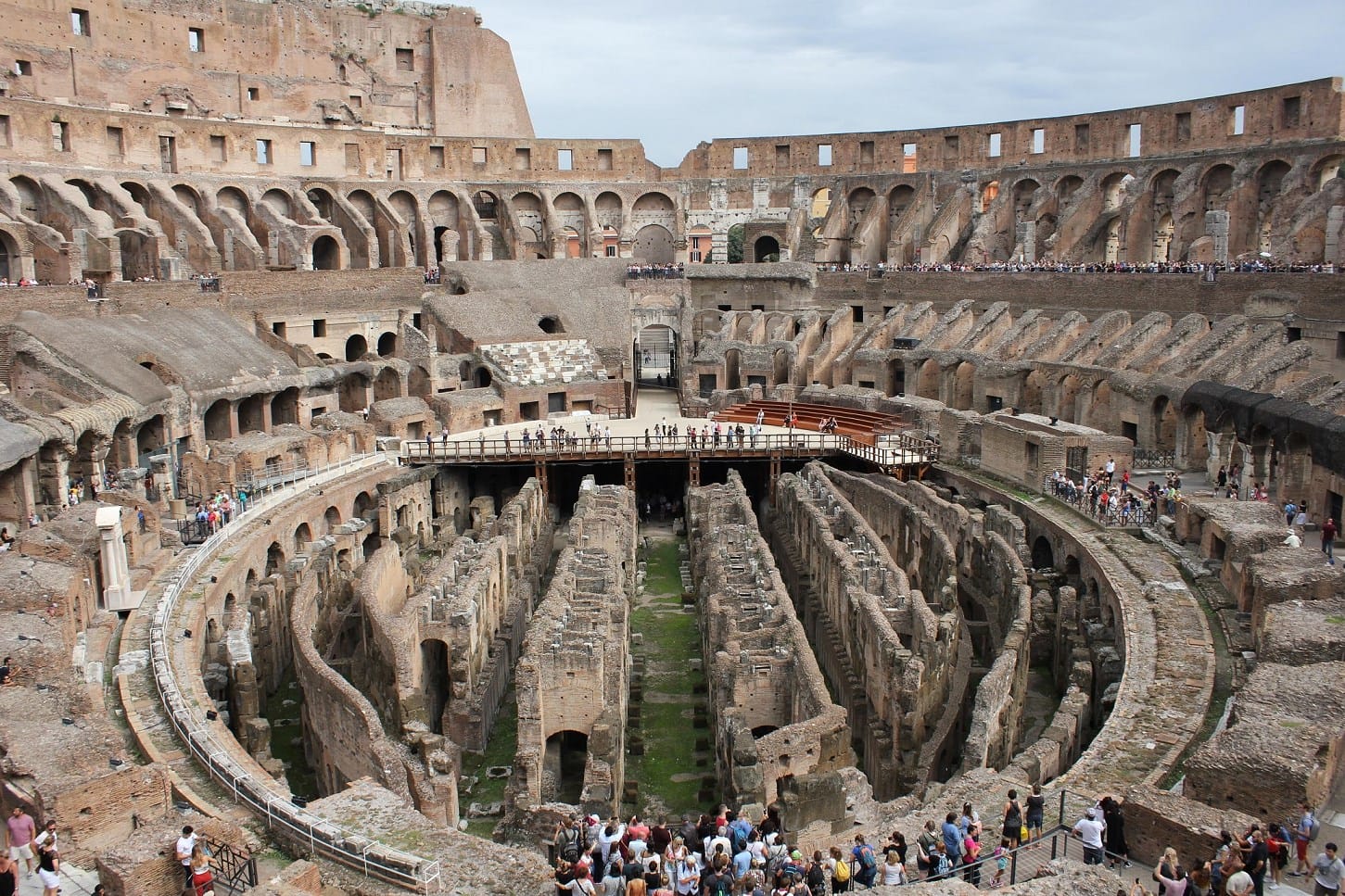 Information to know before you visit the Roman Colosseum
Choose the right period

The best tip for visiting Rome is to go between October and April when many of the big groups of tourists have dissipated and the temperature is lower. The weather hardly dips into freezing during the off season so you will never a very cold Italian holiday.
Spring is busy in Rome as it is Lenten season. Thousands of Christians flock to Rome during the Easter weeks to visit churches and museums inside the Vatican and in the surrounding areas of Rome. Not only will it be very busy but the hotels will also hike their prices up.
The Festa Di San Giovanni takes place in late June, a celebration of dancing food and music.
Christmas is celebrated with numerous elaborate nativity scenes in churches and a huge Christmas market in Piazza Navona. All religious festivities are paired with processions both through the city and the neighbouring Vatican.
Avoid August

If you arrive in Rome during August, you may struggle to find locals as the tourist take over the city. Romans, like many others, take their vacations in August, so hotels, restaurants and museums may appear short staffed or operate on a limited schedule. The August holiday of Ferragosto, on the 15th, usually begins Italian summer break. Unlike many other tourist havens the hotels offer low rates during the month of August.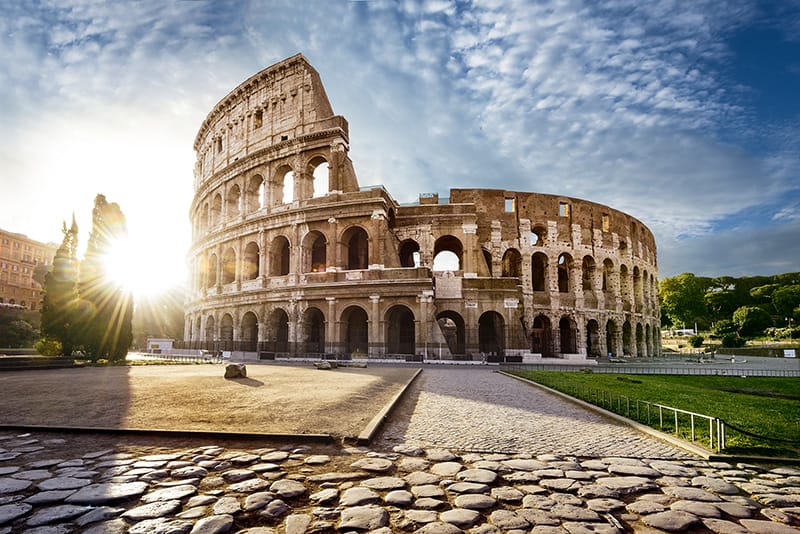 How to visit the Roman Colosseum ?

There are a number of booking options when considering buying tickets. Here are some options and tips to getting the best ticket choice for you when visiting the Colosseum:
Prefer online booking

Booking online is considered the easiest choice because it eliminates long queues and payment issues. Booking online will often require you to print your own tickets. Also read the small print because online booking may still mean you to visit a ticket desk and get the code scanned by a staff member before they give you a physical ticket.
Ticket offices are available outside the Colosseum but don't think it's the only place in Rome where they are available. Queues will be very long for buying Colosseum from any vendors near the amphitheatre but a little further away in Via di San Gregorio (Palatine), Largo Salara Vecchia or former Largo Romolo e Remo (Roman Forum) and Via Sacra (Roman Forum, Arco di Tito). Even if you go to these vendors still put aside 45 minutes to an hour to wait and then another hour for queueing to get into the Colosseum itself. You will also be subject to airport style bag checks which are a part of the reason for the queuing. After 3 p.m. is the quietest time to enter the Colosseum.
Free and discount entrances

There is free entry on the first Sunday of the month but, because there is no reservations, you can expect long queues. It also free for those under 18 and there are discounts for EU citizen aged between 18 and 25. Anyone with valid medical documentation of their disability and is an EU citizen will be given free entry alongside their companion.
Why not a tour operator?

Tour operators provide carefully curated tours that will help you get most out of your holiday to Rome. Doing it this way means you won't have to worry about booking tickets, working out transportation and queueing times. Making the trip with a tour operator also means you will get a guided tour and will skip the entrance queue, all while the guide brings ancient Rome back to life again.
Visit with a Rome travel pass!

A great tip to getting the best out of your trip is to invest in a Roma Pass cards. There are two different types; the €38,50 one is valid for 72 hours; the €28  one is valid for 48 hours. This pass will allow you access to many places on the Roma pass circuit, this includes 2 museums and/or archaeological sites for the € 38,50 and 1 for the €28 pass plus the ability to travel anywhere on the ATAC transport network.
Take advantage of the two-day ticket

Tickets to the Colosseum will also include the Palatine Hill (one of the Seven Hills of Rome) and Roman Forum so it is putting aside a whole day to visit these wonderful locations. Aside from visiting Palatine Hill be sure to visit The Fori Romani, Septimius Severus's Arch, The House of the Vestals, The Arch of Constantine, the arch of Septimius Severus and the hippodrome of Domitian. The Colosseum, Roman forum and Palatine Hill have different ticket entrances but share the same admission tickets, which is valid for two. You can walk freely between the different attractions but you can only enter the Colosseum once and the Roman Forum and Palatine Hill once during the 2 day ticket validity period.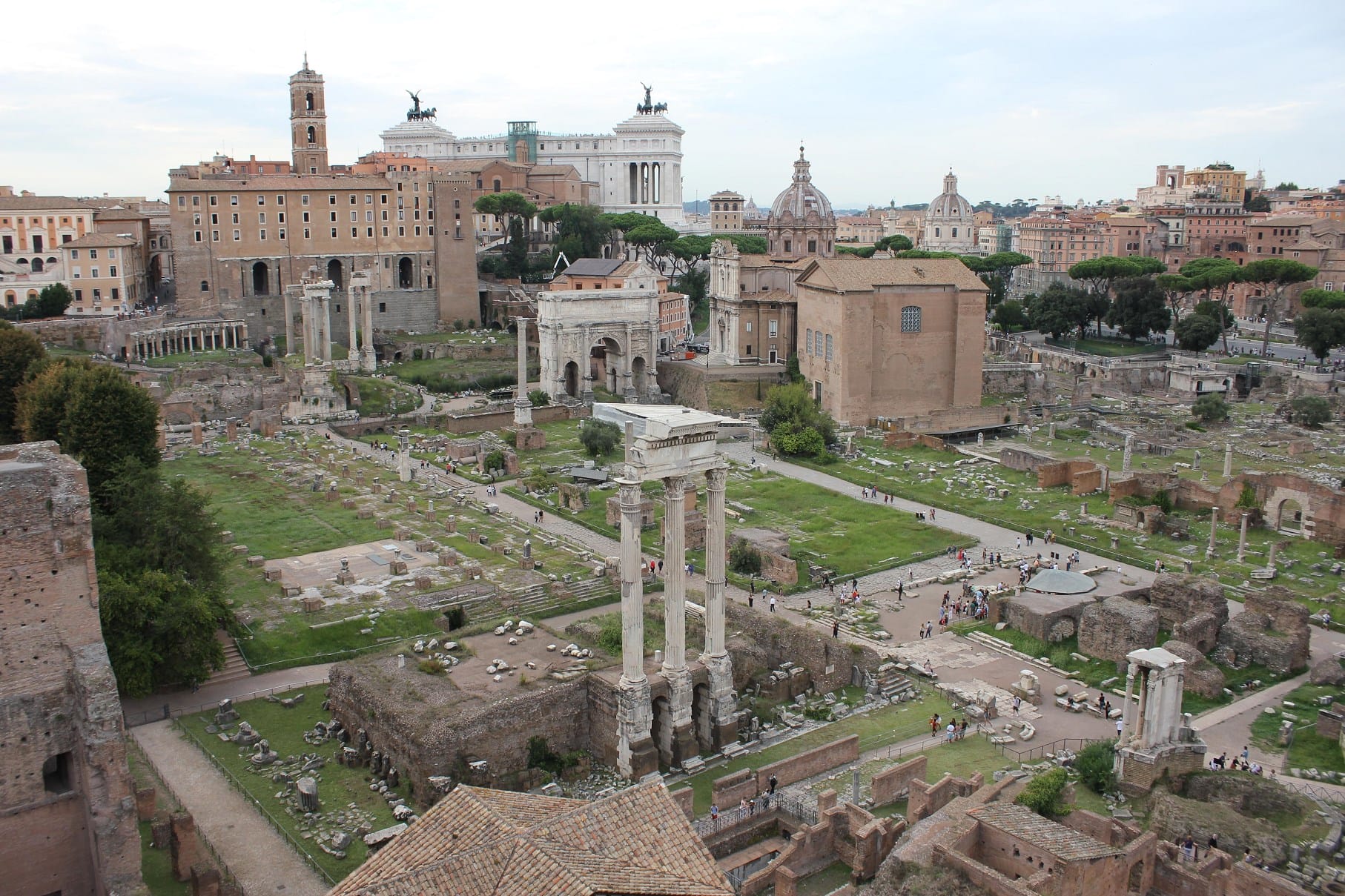 A great tipfor visiting the Roman Colosseum is to invest in a Roma Pass cards. There are two different types; the €38,50 one is valid for 72 hours; the €28  one is valid for 48 hours. This pass will allow you access to many places on the Roma pass circuit, this includes 2 museums and/or archaeological sites for the € 38,50 and 1 for the €28 pass plus the ability to travel anywhere on the ATAC transport network.
This pass also covers numerous other museums and archaeological sites, like Rome's National Museum, Arc Pacis and the ruins at Osia Antica.
Roma Pass will also allow you to skip the queues, which in sweltering Italian heat is worth it.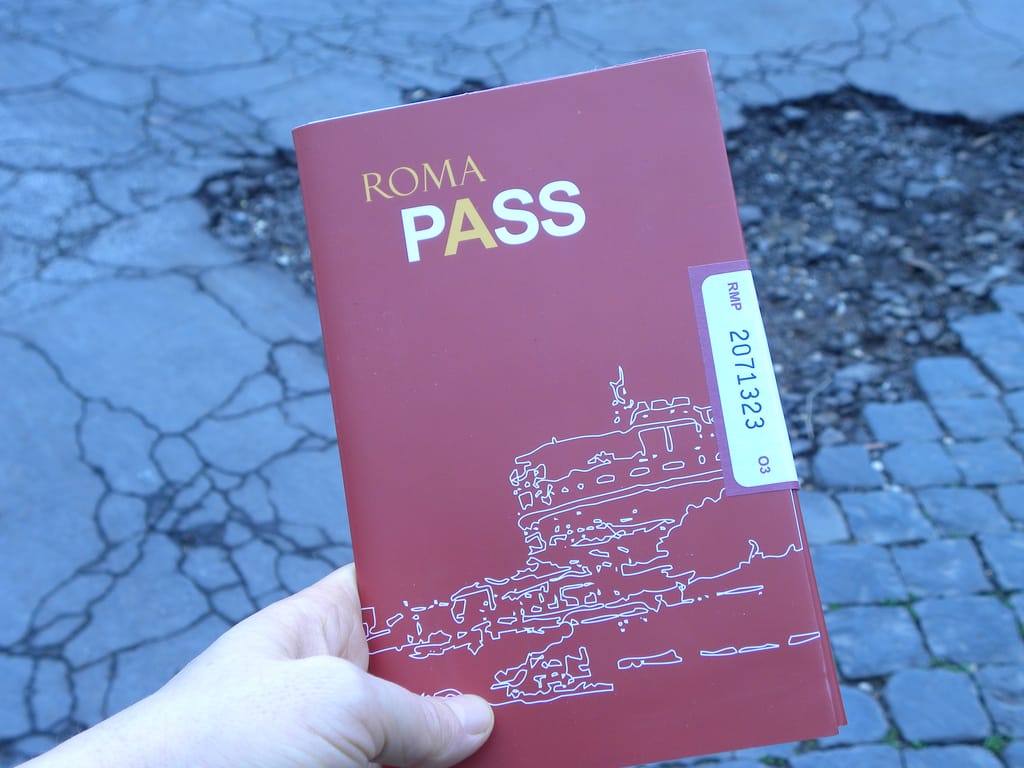 What to see when visiting the Roman Colosseum?
The Colosseum is so big and usually jam-packed with tourists from around the world, that it can often become overwhelming. If you are going without a guided tour leader here are some tips to which parts you can't miss:
Arena floor

This is where all the action and drama took place. When you're on the floor look up at the top seating area so you can see how big truly is and how terrifying it must have been if you were in that oval fighting to your death.
Hypogeum

This is the underground level, beneath the arena floor, where slaves, gladiators, prisoners and the animals were kept during the spectacles and events.
The third tier

The Third tier is not accessible to the general public. If you want to see this section, you will need to be booked onto a tour. It is worth going out your way to see it as you will experience the most incredible views across the city.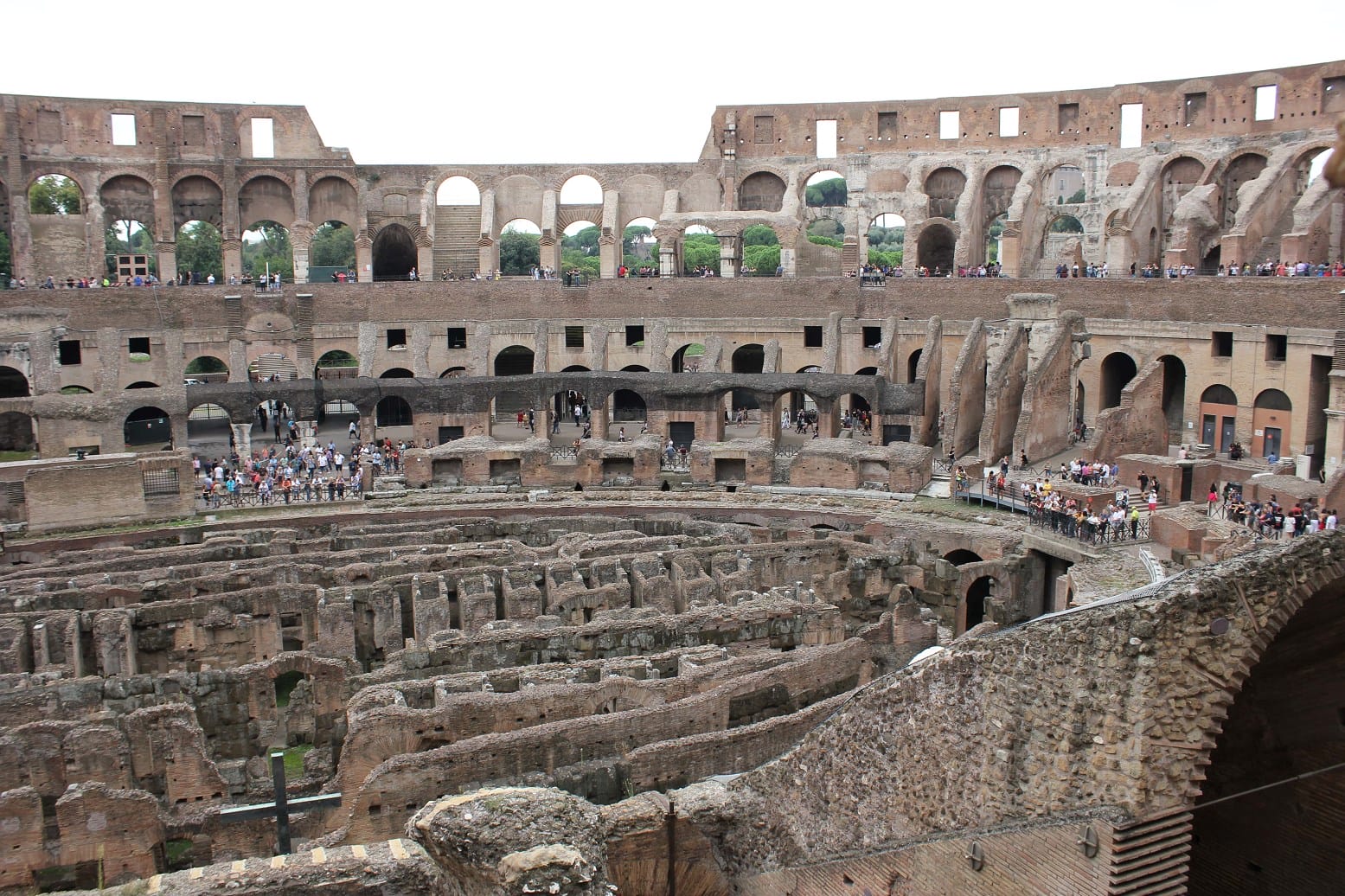 How to get to the Colosseum on public transport ?
The Rome metro is just two lines, which intersect at Rome's Termini Station, despite its limitations this is the quickest of any of the city's surface transport. There is dedicated metro (Line B), bus (number 75), and tram (Line 3) stops for the Colosseum but tickets must be brought in advance and then validated upon boarding.
The buses are frequent and mostly reliable but they are usually uncomfortably overcrowded by both tourists and locals.
Public transport in Rome is very accessible for visitors and incredibly good value for money. There is a range of passes aimed at tourists which combine sightseeing buses, public transport and attraction tickets.  Tobacco shops (tabacchi) or magazine stands are the best places to purchase tickets and there is an app that allows you to buy and download them onto your smartphone.
Taxis are everywhere and very easy to use. Just remember to only use official taxis that have the lighted TAXI sign on the roof and make sure the meter is on.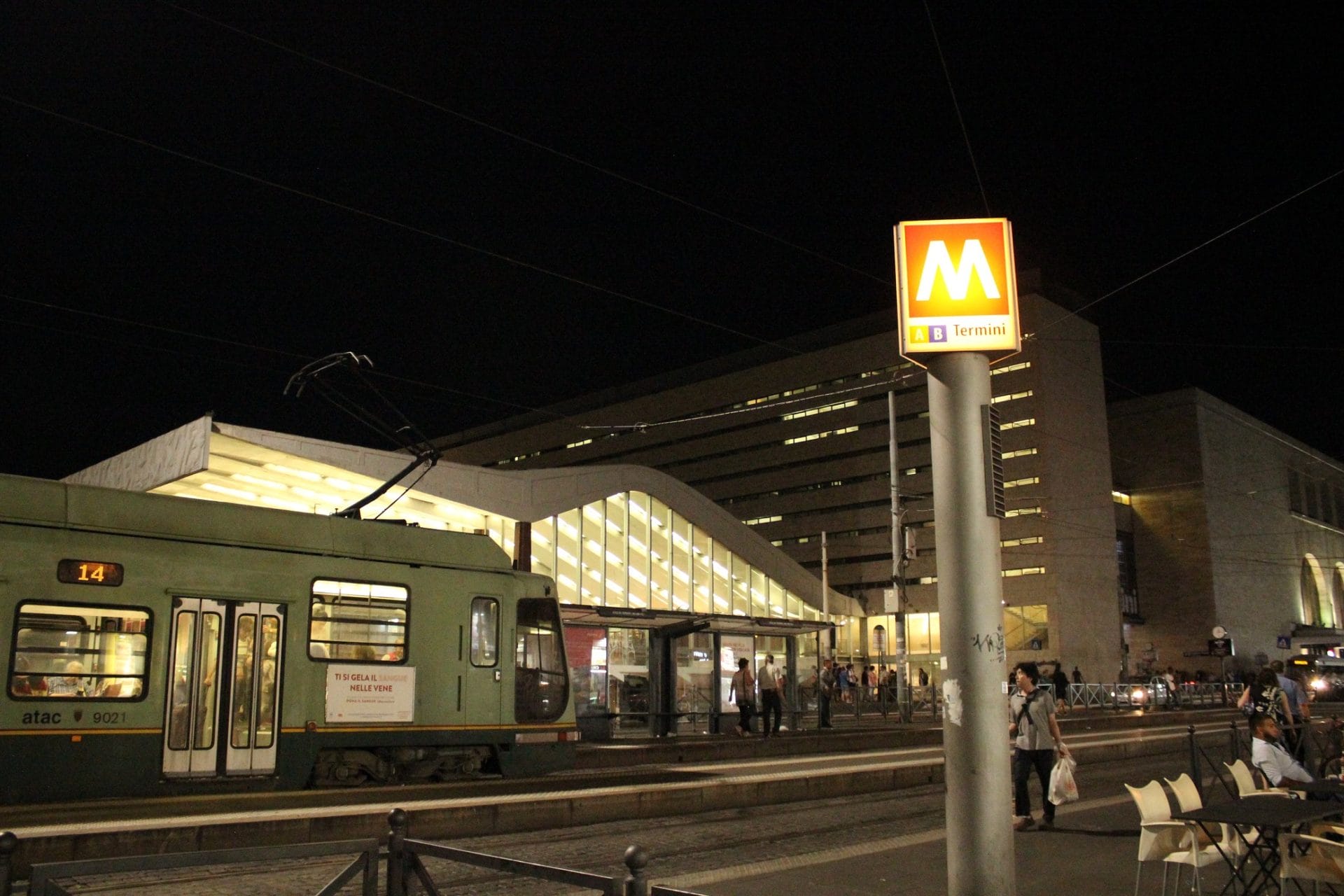 Other useful tips for visiting the Roman Colosseum

      Wear comfortable shoes with a good grip as ancient sites like the Colosseum have uneven surfaces.
      Make sure you bring water as it can get very hot inside the site. There are over 2,500 operational water

fountains

scattered throughout the city if you require a refill.
      If you are going to finish your tour before lunch try and allow time to venture away from the site so you can find better quality restaurant that do not cater towards tourist.
      Large backpacks and bags are not allowed inside to Colosseum due to safety regulations so make sure you travel light. The site has lots of steps so avoid bring heavy things like a big camera bag whilst visiting.
     The beauty of the Roman Colosseum must be

seen at night

. It really is one of the most spectacular sites.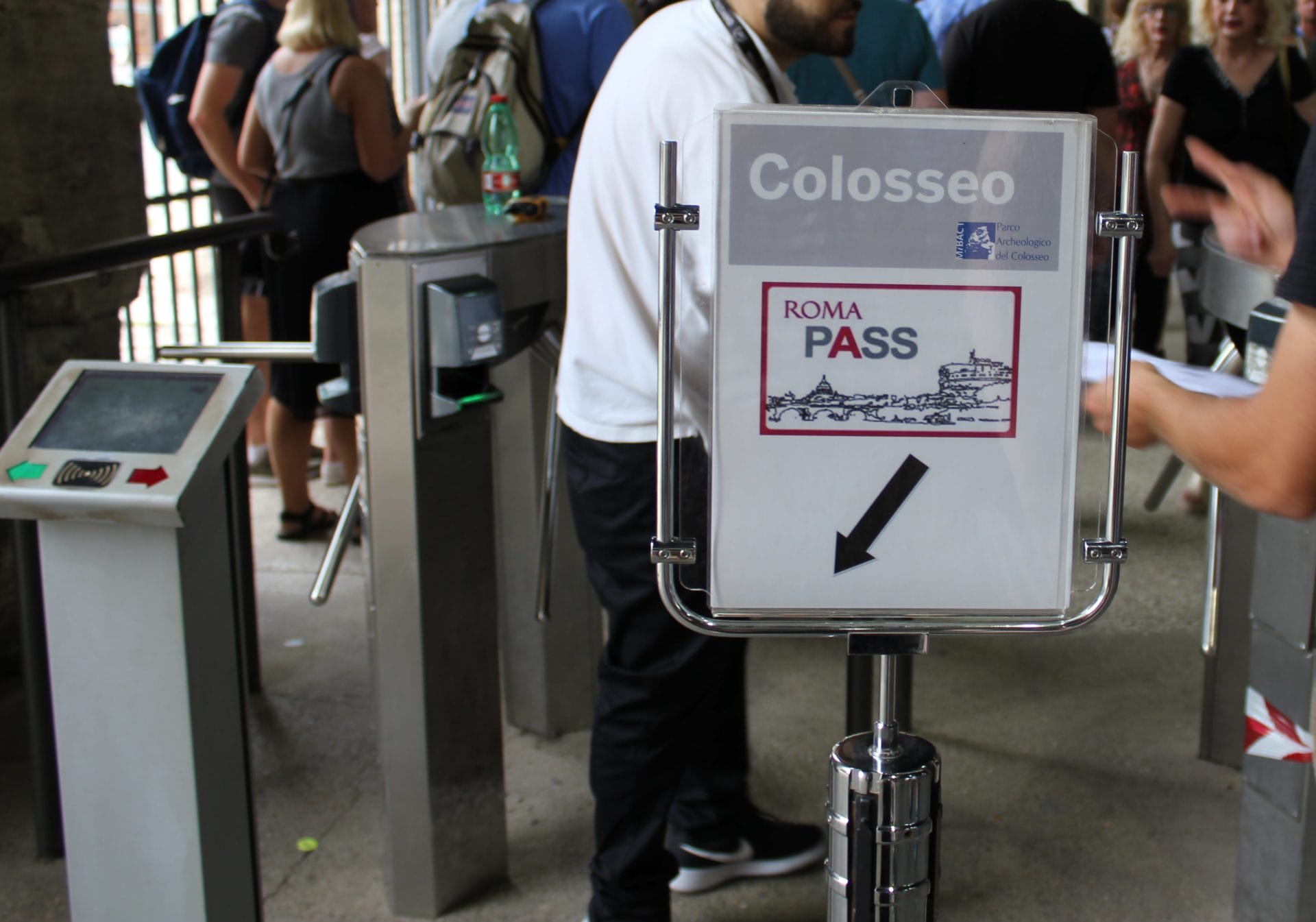 Planning a trip to the Colosseum doesn't need to be daunting, it just takes a little forward planning, amongst the other tips recommended in this article. Buy your tickets in advance, plan your public transport route before you set off and always remember to pack water no matter what the weather is and the visit will be much more enjoyable.